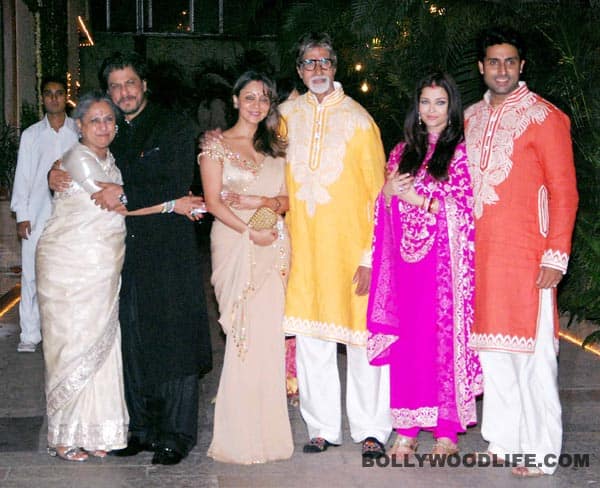 For the megastar the joy of Diwali was celebrating the festival of lights with members of the Indian film fraternity at his residence
Stars like Shahrukh Khan, Ranbir Kapoor and Katrina Kaif were in attendance.
The 71-year-old took to his blog srbachchan.tumblr.com on Monday morning to express his gratitude to his guests. "What was the joy of course was the coming over of the entire fraternity in their traditional best to bring in the greetings, to join in with us at the house and spend this large amount of time in the glory and the warmth of the festival in celebration," he posted.
Among other guests were Anushka Sharma, Farah Khan, Neha Dhupia, Divya Dutta and Sonu Sood. "It was wonderful to see all, from Shahrukh to Katrina to Anushka to Ranbir and everyone, all …relaxed and in comfort of the auspicious moment, in the comfort of each other, of their laughter and camaraderie…a warmth in my heart," Bachchan added.
This warm feeling was mutual with the film fraternity who extended their thank you greetings to the thespian via Twitter. Here's what they posted:
@iamsrk  Dignity…class….graciousness…will always stand apart. Thanx Mr. Bachchan Jaya Aunty Abhishek & Aish for a great evening & morning..!
@NehaDhupia  Wonderful people, delicious food, fabulous setting. Thankyou @SrBachchan n @juniorbachchan n the family for being such great hosts! #diwali
@SonuSood  Thanks @SrBachchan sir n my bro @juniorbachchan for making my Diwali so so special.Had a great time. Lots of love.