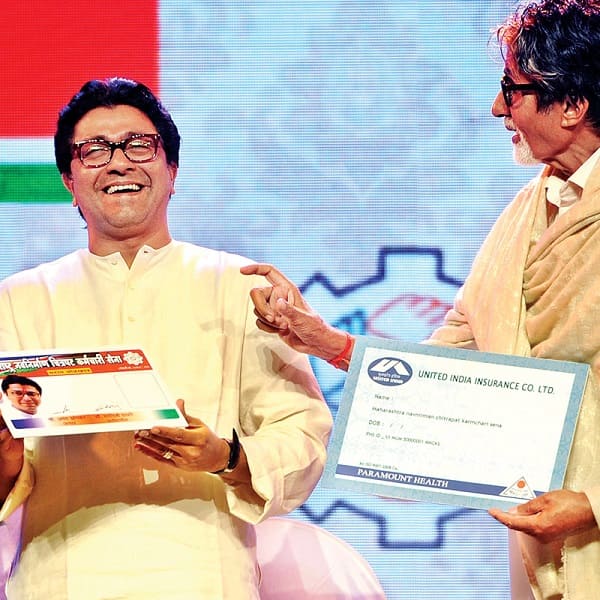 Anticipating protests by workers of Samajwadi Party and Bahujan Samaj Party following the 'truce' between Thackeray and Bachchan, police have provided additional security at the latter's bungalows
Following Samajwadi Party (SP) MLA Abu Azmi's remark on actor Amitabh Bachchan, surveillance near the superstar's residences in Juhu has been increased. On December 25, Azmi had remarked that Bachchan sharing the dais with Navnirman Sena (MNS) chief Raj Thackeray was an insult to millions of North Indians.
"As a precautionary measure, we have deployed our men at Jalsa, Prateeksha and Janak — the three bungalows of Bachchan. We have deployed more police officers around the area to ensure there is no commotion from the general public because of the remark," said a senior police officer. The officer added that since the SP and BSP are upset with the patch-up between Thackeray and Bachchan, their workers may resort to any activity disturbing law and order.
Bachchan and Thackeray had shared a dais at the seventh anniversary of his party's movie industry wing Maharashtra Navnirman Chitrapat Karmachari Sena (MNCKS) recently. Thackeray had earlier targeted Bachchan for becoming the brand ambassador of Uttar Pradesh.
Wife Jaya Bachchan too incurred MNS's wrath when she said that being from Uttar Pradesh she would prefer to speak in Hindi rather than in Marathi. Azmi had said that the actor's appearance at the MNS function was an "insult" to North Indians. The actor should clarify whether Thackeray had accepted only him or all the North Indians, he had said. According to police, BSP had indicated that it would stage a demonstration outside the actor's bungalow.
Text courtesy DNA