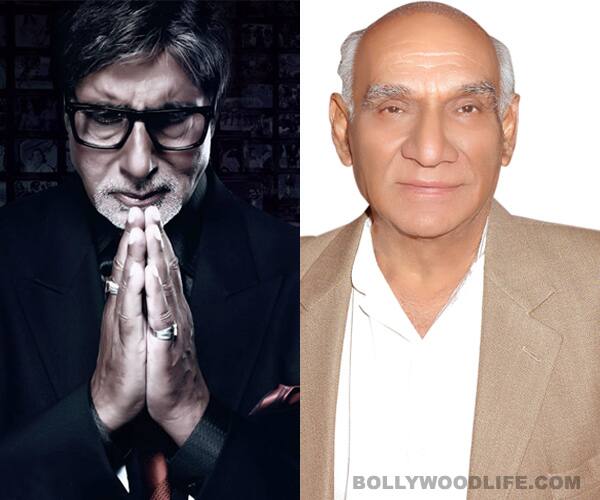 At the chautha ceremony, Bollywood legend Amitabh Bachchan paid a touching tribute to his director Yash Chopra, who passed away four days ago
Amitabh Bachchan owes a lot to late filmmaker Yash Chopra for some of the most memorable roles and films of his career including Deewar, Silsila, Kabhie Kabhi and Trishul. And he expressed his gratitude as well as his grief on the director's death on October 21 at his 'chautha' held in Mumbai last night. Big B also recited a poem dedicated to Chopra – Jo beet gayi so baat gayi – saying how his 44-year-old association with the maverick filmmaker has come to an abrupt end with his passing away, but that we need to look ahead now.
Here is what he said, "In a solemn ceremony of the 'chautha', the fourth day after the passing away of Yash Chopra, Adi his eldest son and one who virtually runs his entertainment empire, asks me to speak a few words in remembrance … I do … after ShahRukh, Karan and Anupam Kher have expressed themselves in what he meant to them and his memories spent together ..
My words ..
44 वर्षों का साथ , जो की 1968 में शुरू हुआ , 2012 में अचानक और समय से पहले समाप्त हो गया ….
"जो बीत गयी सो बात गयी
जीवन में एक सितारा था ,
माना वो बेहद प्यारा था ,
वो डूब गया तो डूब गया –
एम्बर के आनन् को देखो
कितने इसके तारे टूटे ,
कितने इसके प्यारे छूटे ..
जो छूट गए फिर कहाँ मिले ,
पर बोलो टूटे तारों पर , कब एम्बर शोक मनाता है ..
जो बीत गयी सो बात गयी – "
Apart from Shahrukh Khan, Gauri Khan, Karan Johar and Anupam Kher, those in attendance included Aishwarya Rai Bachchan, Katrina Kaif, Anushka Sharma, Sridevi, Parineeti Chopra, Bipasha Basu, Farah Khan, Soha Ali Khan, Javed Akhtar, Jeetendra, Subhash Ghai, Shashi Kapoor and Abbas Mustan. CLICK FOR PICS OF THE CHAUTHA