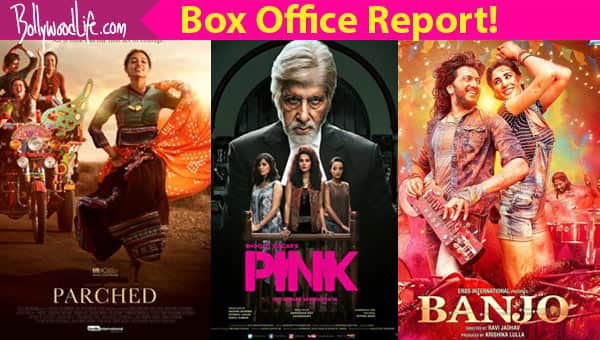 Amitabh Bachchan and Taapsee Pannu's Pink has been ruling the box office ever since it released last week. The courtroom drama was a niche release that has sky rocketted coz of the good quality content and hard hitting message that the movie has given to the audience. Though it started off on an average note, Pink grew over its first weekend to end on a high! Pink saw a dip on the first Monday but since then it has seen a growth once again symbolising the fact that the film has good content, is still a crowd favourite and will continue to grow as the word of mouth publicity keeps increasing…
However today, two significant films – Riteish Deshmukh's Banjo and Radhika Apte's Parched released. This means that the audience and screen space should have been divided. However, Amitabh Bachchan's Pink has maintained its audience and its screen space and hence, don't even think for a minute that the film will stop. Pink is unstoppable right now and will continue to RULE the box office. This can also be attributed to the fact that Banjo and Parched haven't started off on a great note. Both the films have had average reviews and low occupancies. ALSO READ – Banjo movie review: Riteish Deshmukh and Nargis Fakhri's musical drama is a confused film!
As our trade expert – Akshaye Rathi  (exhibitor and distributor) reveals to us EXCLUSIVELY, "Parched is a very niche film and it has had a very niche release too, it's not meant for a wide audience. In it's own way, it is doing fine with the little audience it is supposed to cater to. Banjo has had a good start in Maharashtra. It is one place where Ravi Jadhav has a good fan following and so does Riteish Deshmukh. It's has opened to 25-30 per cent occupancies in Maharashtra. It has managed to get about 2000 screens. On the other hand, Pink is sustaining well. It has performed well throughout this week and this weekend, it will do very well again. Pink has been able to hold about 1000 screens this week." ALSO READ – Parched movie review: Radhika Apte and Surveen Chawla starrer is a chick flick from the rurals!
With 1000 screens and a good word of mouth publicity, we are sure Amitabh Bachchan's Pink will do well at this weekend too! In fact, Banjo and Parched's slow start and low word of mouth publicity will benefit Pink too… And if you didn't know, then let me inform you that Amitabh Bachchan's Pink has already made a considerable profit. Akshaye had revealed to us earlier that Pink was made on a budget of nearly Rs 25 crore and now that the film has collected Rs 35.91 crore, it has made a good enough to profit. Also, with Pink continuing to perform well at the box office, you will see the film make an even bigger profit! Ain't that cool? ALSO READ – Amitabh Bachchan's Pink BEATS Emraan Hashmi's Raaz Reboot in the opening weekend!
Anyway, tell us what did you think about Pink, Banjo and Parched? Tell us about your thoughts in the comments section below! Also check out what other people had to say about Amitabh Bachchan's Pink in the video right here: