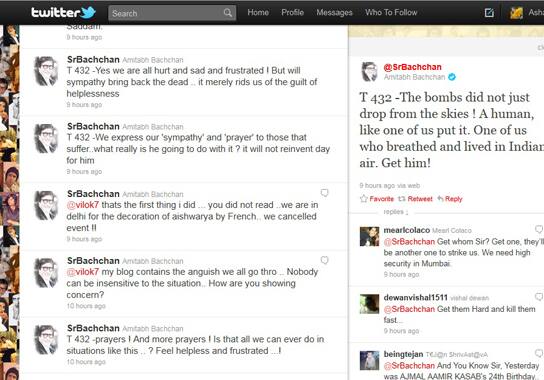 B-town is upset with the current state of affairs after the triple blasts and they are making it very clear on their microblogs
The triple blasts in Mumbai on June 13 got our B-town celebs all worked up, with most of them taking to Twitter to vent their angst. Initial tweets spoke about the well-being of everyone in the city, but that quickly changed to expressions of utter disgust for the state of affairs. Read on to know what stars had to say.
Amitabh Bachchan (@SrBachchan) led the charge with, 'prayers ! And more prayers ! Is that all we can ever do in situations like this .. ? Feel helpless and frustrated …! We express our 'sympathy' and 'prayer' to those that suffer..what really is he going to do with it ? it will not reinvent day for him. Yes we are all hurt and sad and frustrated ! But will sympathy bring back the dead .. it merely rids us of the guilt of helplessness. The bombs did not just drop from the skies ! A human, like one of us put it. One of us who breathed and lived in Indian air. Get him!'
Sonam Kapoor (@sonamakapoor) joined in with, 'What does we can't do anything about terror mean. What an irresponsible and cowardly statement.' Arjun Rampal (@rampalarjun) commented, 'Mumbai attacked once again by cowards? Can't understand, if New York and London can make sure it doesn't happen again then why can't we? My condolences and prayers to all those families whose loved ones have become victims. An emotion of utter helplessness sinks in again.'
Karan Johar (@kjohar25) echoed the thoughts of the majority when he tweeted, 'Prayers are strong but cannot replace accountability…resilience cannot be considered as back up!!!'
Shahrukh Khan (@iamsrk) kept it simple, 'En route india and mumbai…I am devastated and saddened by the loss in my city. May Allah bless us..want to be there as quickly as possible'.
Ram Gopal Varma (@RGVzoomin) put in his two bits of trademark sarcasm, 'All the people who are praying fr the victims of the blast I wish they prayed a little earlier to stop the blasts also'.
Farhan Akhtar (@FarOutAkhtar), who cancelled his event to launch the first look of Don 2 scheduled for the evening of the blasts, was far more polite. 'I hope the Central and State government wake up to Mumbai's continuing woes and do something to help our city get it's confidence back' he tweeted, and then followed it up with a cautionary public service tweet, 'Receiving random msg's about more possible explosions. Please do not circulate these rumours.'
Bipasha Basu (@bipsluvurself) added vociferously, 'In d garb of resilience v keep forgetting incidents lke this again n again! Its sad as noone is evr punished!Loss of life hs bcome a joke! We keep condemning acts of terrorism and that's where the story ends everytime and repeats again!Its a shame!'
Hrithik Roshan (@iHrithik) struck the only optimistic note, 'Feeling sad, angry and helpless!I pray for the families of the victims. On a resilient note, I need to believe that der r some good leaders, some good men in position of power out there in the govt 2 guide this city, to do d right thing without getting entangled in the web of politics! Wherever u are pls come forth and fight for this city! Rectify the wrongs!show us the way!the common man needs assurance that u exist!! My MUMBAI needs YOU…. NOW!!'
Arbaaz Khan (@arbaazSkhan) minced no words, 'Terrorist are inhuman bastards who have no place in civilized societies. State should tackle terror with terror. An eye for an eye.'
Surprisingly though, his brother Salman Khan and many of our other B-towners preferred to remain silent. Akshay Kumar, Ajay Devgn, AR Rahman, Madhuri Dixit, Farah Khan, Aamir Khan, Anushka Sharma, Sushmita Sen, Sanjay Dutt and Deepika Padukone did not comment, while all Sonakshi Sinha (@sonakshisinha) said was, 'may god be with us.'