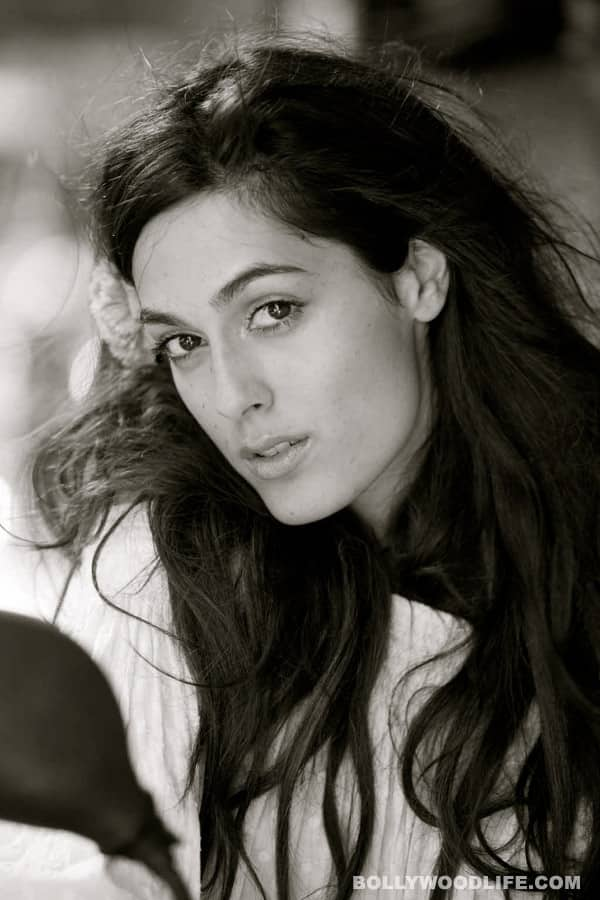 Model-turned-actor Amrit Maghera is a wonderful amalgam of western sophistication and Indian magnificence. After spending close to five years in India and building an enviable portfolio as a model, the face of brand Lakme is all set to take Bollywood by storm with her upcoming film Someday. In a freewheeling chat the English import tells us how Bollywood caught her fancy and how her debut film Someday will set a new benchmark in the field of dance
As she opened the door of the studio and flashed that enticingly charming smile, we forgot for a moment that we had traveled for close to three hours in the notorious Mumbai traffic and in the scorching April sun to interview the model-turned-actor. The exhaustion suddenly vanished as Amrit Maghera invited us in. She grabbed a chair, smoothed out the creases on her immaculately designed grey outfit and adopted a picture perfect pose. The glow on her face, her clipped British accent and her classic beauty, everything about Amrit is drool-worthy. Modelling, Amrit maintains, happened to her by chance and Bollywood was the next logical step.
So how's India treating you?
India is very welcoming. I have made lots of good friend here; I love the vibrancy of this country. Though sometimes the pollution and heat can take a toll on you, but that's not a big worry for me. I like hot weather. I am from England and it's constantly cold there.
You are blessed with such a pretty face. Tell us honestly, while growing up, how often did you look in the mirror and said-one day I am going to make it big as a model?
I never saw myself like that. I was into dance and sports. I never really looked in the mirror to think that I can make a career in modeling. But when I went to university, many people told me to send my photos to Asiana magazine, which is quite big in England. A friend of mine took my pictures. she wanted to pursue photography. She had never taken pictures before and I had never modeled before either. Fortunately the pictures came out quite okay and we sent it to the magazine. And they got back to me saying that they wanted me to model for them for an editorial shoot. And I was like- Oh my god! Wow, they have actually got back to me. That certainly was a 'wow' moment for me. I did a couple of shoots with them. One thing led to another and here I am.
You were born and raised in England, and now here you are in Mumbai to make it big in Bollywood. Tell us about this reverse run?
I am proud that I am half Indian, but coming to India was not a conscious decision, it was so random and I landed here. It happened by chance. Sometime life takes its own path and that's what happened.
You have been modeling for the past five years. You must have observed the film world from close quarters as well. How did you see Bollywood as an outsider?
I know this is going to sound ignorant and naive. I don't know much about Bollywood. I used to come to India and my maternal grandparents from my mother's side would watch some films South Indian films and I thought those were Bollywood movies.
The first Bollywood film I saw was Sanjay Leela Bhansali's Devdas, starring Shahrukh Khan and Aishwarya Rai. I was completely blown away with everything in that movie- the emotions, the drama, the dance, the costumes, the music, the story, the direction. Everything was surreal. Then I realised for the first time what Bollywood was all about.
Has your perception of Bollywood changed vis-a-vis how you looked at the industry before becoming a part of it?
Initially I thought it was all glamorous and naturally I was very wrong to think like that. There's a lot of hard work that goes into making things look glamorous. I also realised that their cultural differences and I could not speak a single word of Hindi. So initially it was a challenge in itself to adjust to a new culture but that was just a part of the process.
Bollywood is organised chaos. It is madness, but it is a great fun in the end. I hope when I grow old I will have many stories to tell about the madness that Bollywood is, the madness that India is. It entices you. You want to be part of this chaos in the end. Things are getting more organised and more professional though. And I have witnessed good changes happening in the industry.
Being a model must have helped you get noticed …
I think being the face of Lakme helped me stay afloat and it projected me in a certain way which helped me to get more offers in this business. And I got the first assignment from Lakme when I was new here. I was lucky to get that opportunity.
Tell us about the shift from the ramp to celluloid
The shift happened because I was always interested in acting. More than facing the camera just for pictures, I enjoyed doing TVC's which gave me enough scope to express myself. As I mentioned before that I was passionate about sports and dancing. I was a very active person. I love to move a lot, but modeling was constricting myself within the frame. Acting gives you an opportunity to be a character. But I could not speak Hindi, so it was difficult to get offers to act in movies. The desire was there right from the start and I was waiting for a right project to come along. Thankfully I bagged Someday. I was very excited to do it. Acting is portraying someone who isn't you and that to me is very challenging.
But they say good models rarely make good actors…
Bullshit! (frowns!) I don't agree with that perception at all. I don't think one can categorise everyone in the same slot with these prejudices. Hopefully, I will prove that notion wrong (laughs!)
Your debut film Someday promises to be the biggest musical the country has ever seen. Tell us about the film and your role in it.
Someday is India's first international dancing drama. It's the kind of dancing you have never seen before on the silver screen. I am playing a character I definitely have got my teeth into. I am afraid I can't tell you more about my role. It's a fiercely guarded secret.
Dance is your forte. You are a trained dance. so this film must have been a cakewalk for you.
The kind of dance this movie required was very challenging. Dancing is my forte and this film required more than hips swinging. It was really tough. It's not Bollywood dance. They trained me. I took up dance workshops for four weeks where they taught me these intense dance moves. Mumbai has taught me a new form of dance. How I love this city!
So Mumbai is your second home now…
I feel very safe here. Mumbai is one of the safest cities in the world. You have got to be a bit careful, especially in the night, but one would be bit cautious anywhere in the world. But here you can get back home in midnight without any problem. I feel very safe in this city.
When not busy with your modeling assignments and acting, what keeps you occupied?
Dancing. I love singing to, that's another hobby of mine. I love cooking. I love reading. Currently I am reading the Michael Caine biography. I like Paulo Cohelo a lot. Reading helps broaden my imagination and helps me visualise a hypothetical situation and I become the person I read about. Reading helps in being part of the story. It helps you me a lot on the acting front too.
If you have to endorse your film, how would you do it in a couple of lines?
If you want to see something you haven't seen before on the Hindi cinema screen, you should go and catch the film. The dancing will blow your mind. This film will set the dancing standard. It will raise the bar. We have got some international choreographers. You will see dance forms from all over the world.
You wish to stay here, even in the long run?
I am not here to sell myself. I am here to stay because I love this colourful country. I love India, I love acting and I love Bollywood.