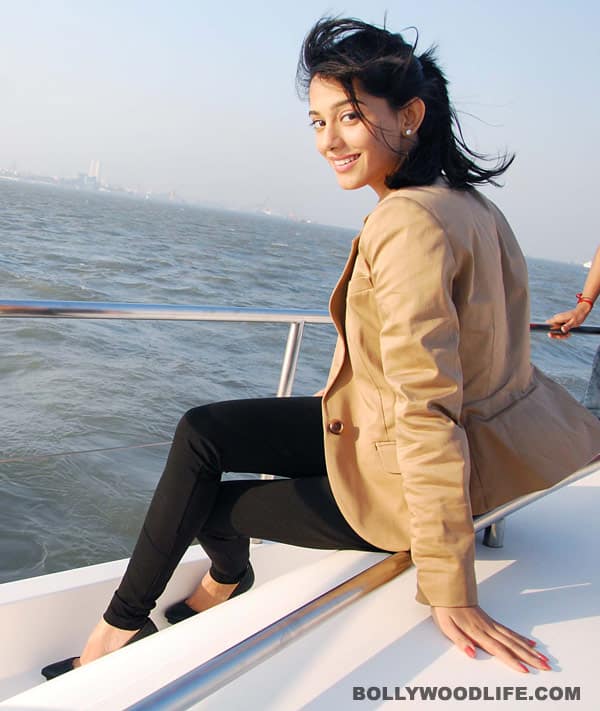 The petite B-town babe who's back after a two-year sabbatical to do three promising films this year talks about her 'happy zone', Jolly LLB, working with stalwarts – Amitabh Bachchan and Sunny Deol in Satyagraha and Singh Saheb The Great respectively – regrets and much more…
John Wooden rightly said, "Things turn out best for people who make the best of the way things turn out." The sassy Amrita Rao is certainly living by this quote. She has been in the good books of critics since the day she ventured into Bollywood and till date has maintained her stance – so what that she couldn't cash in on her success and do more films? Like every actor, Amrita too has been struggling to do good cinema without complaining about the way things have worked (or not) for her in the last couple of years…..
We don't see you much onscreen – a lack of movie offers?
It just happened that in the last two years I've had a record of one film a year… much unplanned, just like I did not plan or imagine that I'll be working on three films in 2013. This is a very precarious career. You cannot sit and plan things for yourself. In 2000, I had agreed to do a couple of projects and got signing amounts for them, but the films never got made. Life surprises you and it happens to the best of us.
Has the response from the industry and your fans been positive enough to reinstill faith and a positive attitude in you as an actor?
In the last two years, I did fewer films. So people always asked me why I don't do more films. Now that I have three films lined up for release this year, let's hope for the best!
Your last hit was Welcome to Sajjanpur – are you disheartened that after that, good movie offers didn't come your way?
It's not that the right kind of offers aren't coming – maybe when offers come, sometimes you don't want to take them up for different reasons. I didn't have to really knock on doors or chase people for work. And disappointments do happen when suddenly plans don't go according to what they were meant to be. That's the phase when you need to have right people around you to give you the right advice, because if anyone gives you the wrong signal to sign some wrong project, then you can have regrets later. Fortunately, I have all the balanced people around me. I'm in a very happy zone and there are no complaints.
Any regret?
I regret not being able to do Well Done Abba. I missed the chance of working with Shyam Benegal and Boman Irani again. Apart from that… no regrets. I have no godfather in the industry. I'm making mistakes and learning.
Jolly LLB centres on a battle between two lawyers. Where do you fit in?
I haven't played a special appearance in the film (laughs)! My contribution to the script is significant. I play Arshad's girlfriend who's very balanced, strong-headed and has a commanding personality. She has no qualms about showing a mirror to the world. So it was nice to play a role like that. It was very non-mushy and non-romantic.
When a filmmaker approaches you for a film, did you ever ask – why me?
Good question… hmm… I have never really questioned my directors, perhaps because initially they saw some of my ad films, auditioned me and signed me on. Farah (Khan) had no choice but to audition me and take me in her film, considering I was the last choice for Main Hoon Na. Subhash Kapoor must've seen some good performances and offered me the role in Jolly LLB. But I didn't really ask him – why me?
You started shooting Prakash Jha's Satyagraha recently. How's it coming along?
It's one film I'm going to cherish all my life, because it's a once-in-a-lifetime opportunity to work with Mr Bachchan at such length – which I only dreamt of. So to be doing emotionally draining scenes with the Shahenshah of Bollywood is like a dream come true! It's a very topical film and deals with current issues that our society and country are dealing with. It's not based on any individual. If Satyagraha was to be my last film, I would look back at a happy and complete portfolio.
Tell us something about Singh Saheb The Great!
I play a television journalist. It's exciting, because I've always been on the other side of the mike, so to hold the mike and pose was a very different feeling. I realised that the TV journo's job is very challenging and you have to be sharp and smart enough to get things done. Sunny is such a professional and one of the strongest action heroes we have.