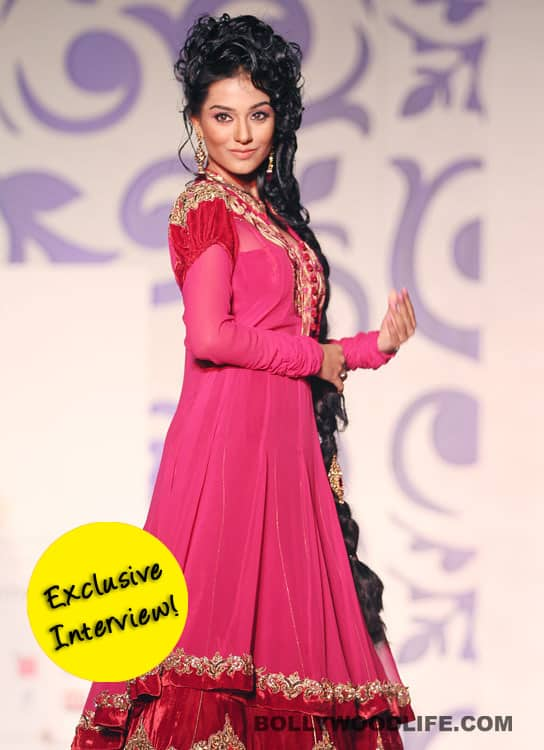 Amrita Rao, back in the limelight after quite a gap, justifies the 'image change' stories and confesses that she could do anything for love
Your last two releases –Victory and Shortkut – were in 2009. What kept you away from the silver screen for two years?
I had signed two films in 2009, to be executed in 2010. An AB Corp film – The Legend of Kunal – to be directed by Dr Chandraprakash Dwivedi (Pinjar fame) and a Tips film, to be directed by Ken Ghosh. Both these projects had to be stopped from taking off because of major budget constraints and the recession. So, in 2010 I was shooting for only one film, Love U… Mr. Kalakaar!, as against three films. That's why you didn't see any release in 2010 and you will see one in 2011.
It must have been tough on you…
I think it was an overall low phase for the industry. Usually, I shoot for two films and maybe have one or two releases in a year. Though there was a time in 2006 when I was just shooting for one film, Vivah. Certain things are beyond your control. But you do get a little saddened if things that are meant to be are not taking off because you have already started planning in your mind. But I guess family support and positive people around you help you sail through any kind of situation.
Love U… Mr. Kalakaar! is the story of a man who goes to unexpected lengths for love. How far would you go for love?
I could bet my life.
Can you give up acting for love?
I will. I feel that a relationship is the strongest support system to any human being. I truly believe that whether in the form of your family member or a marital relationship or a life partner, it is a very strong support system. Things like career keep fluctuating and changing, and don't really wait for you. You should know where to strike the right balance.
You've been in Bollywood for over a decade. What do you look for when signing a film?
Because I don't have a godfather and I have virtually sustained on the merit of my performance in each movie, I am very careful that the project should have at least one strong factor, either in the form of the producer, or the director or the hero. Because these three things are most important while structuring a movie. I think the place for the heroine comes much later, and that is the fact.
You started out doing fun roles but after Vivah have stuck to performance-driven roles. Is it a conscious decision?
You know, you can never sit on taken decisions or measure each step in such a precarious industry. I did not sit and plan a Vivah. It came my way and likewise Welcome to Sajjanpur fell into my lap. I never really planned these kinds of roles, or the shift from working for a Sooraj Barjatya to a Shyam Benegal. I am just going with the flow. Fortunately, quality work has come my way and within my parameters of comfort level.
What works as an advantage can sometimes also be a disadvantage. For instance, your innocent, petite looks suits certain types of roles. As an actor, do you find it limiting?
I would say that's my greatest strength and my USP. I don't see it as a limitation at all. Like I said, I have been very fortunate that perhaps I am a niche actress today. I recognise myself like that. I have a certain image and perception that is typical to me and nobody else. I am not a part of the crowd. If they want me, they want me and that's a huge compliment. Perhaps, if the work that is offered to a lot of other actresses would be offered to me, I wouldn't have done it, as I wouldn't have been comfortable doing it.
Speaking of uncomfortable roles, what kind of roles would you not do?
Comfort level is something you can't measure… (Long pause) Maybe I would not be able to pull off a role like Saat Khoon Maaf because I cannot relate to that character.
A lot of young actresses like Deepika Padukone and Sonam Kapoor entered after you and are doing bigger projects with bigger stars, and are on a brand endorsing spree. Does it bother you?
No. Like I said, we cannot compare ourselves with others because when I came into the industry I had so many benefits which perhaps a girl from a non-film background would not enjoy. I don't compare myself with others. I don't think of any missed opportunity as a loss.
In between there were rumours that you are undergoing an image change; from a pretty good-girl-next-door to a sensuous diva. Comment.
Very honestly, I think that perception came from my movie Shortkut. I found it a bit amusing because in that film– even in terms of clothes or scenes- I did nothing different from what I did in Ab Ke Baras, Deewar or Pyare Mohan. Main Hoon Na again was very contemporary. But I guess the whole perception of Vivah became so synonymous with Amrita Rao that maybe they forgot about my other films. And suddenly Shortkut became a makeover. So, I am glad that under the same banner I have got a chance to do something more contemporary and something I can most relate to in Love U… Mr. Kalakaar!.