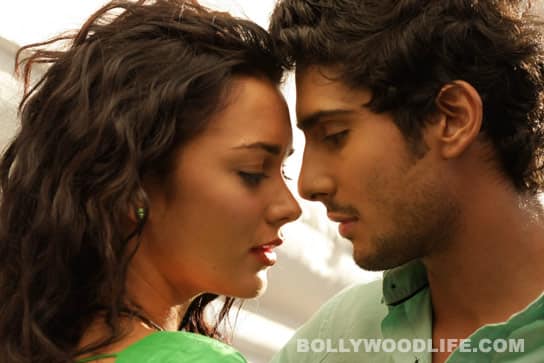 Amy who has been unclear about her relationship with Prateik comes clean post the release of their film
Prateik and Amy Jackson make an unconventionally perky pair not just on screen but off it too. The talk of their romantic link up has been grabbing the eyeballs for quite some time now. Reports about their live-in relationship had also surfaced when the couple's film Ekk Deewana Tha was on the verge of its release. Apparently, the buzz was that Prateik had moved into Amy's Bandra house after the duo bonded big time during their five-month long shoot. However, they never gave any clarity about their romantic alliance. Their relationship status was absolutely obscure. In fact, they allowed the media to speculate and probe into their off screen-relationship, perhaps to boost the PR drive of the film.
But now that Ekk Deewana Tha is released, Amy who wants to make Mumbai her second home and has Bollywood ambitions finally comes clean about her real equation with her co-star. The British babe maintains that Prateik is a special friend and she's very close to him but they are not in a live-in relationship. "I am very close to Prateik. As we both are young and have spent almost a lot of time together shooting for the film; it's obvious we both have become best buddies. And here in Mumbai, Prateik and I have a lot of common friends so we often hang out together. So the bond I share with him has just become stronger. However, we are not staying together like many think," said Amy in a recent newspaper interview. Somehow, we already knew that didn't we?