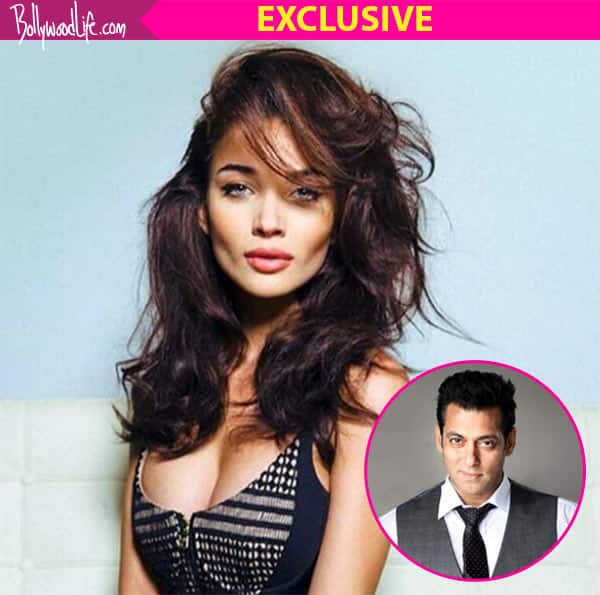 Having her Bollywood career just started, Amy Jackson has managed to work with some of the most phenomenal actors in the film industry. She is already a popular name in the south and now she is on a mission to make her mark in Bollywood too. In an exclusive interview with BollywoodLife, Amy talks about her next film 2.0, her experience on working with Akshay Kumar, Rajinikanth and Nawazuddin Siddiqui has been like and also reveals whether she will be seen opposite Salman Khan in Dabanng 3.
We don't know anything about your character in 2.0. 
If anybody knows Shankar then they know that any details about roles or characters is forbidden. Well, that's because he's got so much vision, so much preparation behind it, obviously. A lot of money has gone into the film, a lot of effort and thought process but what I can say is my character is very different from anything I have played before. And its very different from how I am as a person. I had to completely change my demeanour when I had to play this character and I believe that I won't get a chance to play this kind of role again. Its very appropriate for the film I am doing and its very 2.0. So I think it's a once in a lifetime role for sure.
This is your second film with Akshay Kumar. How is your rapport with him like?
Amazing! He is an awesome actor. Because he is such a genuinely nice person, it's always so easy on set. Obviously Singh Is Bliing was so much fun, it was a comedy and we had a ball while we shot in Goa and Punjab. Now, I haven't shot for any scenes with Akshay for 2.0 yet. I have 15 days left on my filming process yet and they will all be with Akshay. We will begin next week so let's see..and it will be like a nice reunion on the sets. (ALSO READ: Amy Jackson wants to kill Sidharth Malhotra as he is taken – watch video)
You have worked with A- listers like Nawazuddin Siddiqui, Akshay Kumar and now Rajinikanth right in the start of your career. How has the experience been like?

Very, very honoured to have worked with them and to get to work on films like Freaky Ali with Nawazuddin, he's a performer who I have learnt a lot from. I think he is very impromptu. Its very nice to work with somebody like that and get a whole different vibe. Akshay is a totally different kind of actor. And I take away from every film I do. Obviously Rajinikanth is a living legend and I never thought I'd get a chance to work with somebody of that calibre so soon. More than that I have learnt as a craft with my director or with Rajini sir, I think I have learnt a lot about as an artist because Rajini sir has been in the industry for so many years and its lovely to learn from him.
Who is on your wishlist next?
I am very greedy.. Sanjay Leela Bhansali is on the top of my list. He just creates art, honestly and its just like a picture- perfect painting that comes to life when SLB does a film. Imtiaz Ali. I love the content of his movies and how he portrays his actors and actresses. I am very greedy when it comes to actors.. I want to work with Salman, I want to work with Varun, Tiger and there's so many of them because there is so much talent. Everybody is so different so I'd like to work with each one of them. (ALSO READ: This what Amy Jackson feels about Kareena Kapoor Khan, Deepika Padukone and Priyanka Chopra breaking stereotypes)

The first look posters of 2.0 are already out and people have loved Akshay and Rajini sir's avatar. When are we getting to see your first look poster of the film?

I know, its so unfair, isn't it that they have not released my poster? But you're gonna really enjoy it and you are gonna like it when it happens. If they release my look of the film, it gives away a big part of the story almost so that's why they are keeping it under wraps. We are going to have another launch in a couple of months and it's gonna be done in a grand way so maybe then you would get to see more of my look and my character in the film.
With Sonam Kapoor doing Neerja, Alia bhatt doing Dear Zindagi and then we have Kareena Kapoor Khan who broke stereotypes while she was pregnant; do you think that this is the best time for women in the industry?
Hundred percent.. and I think it can only get better that we can improve with the content for women. You know it's not that people have had this overnight realisation that 'oh we should give them these roles'.. nope.. people are standing up for themselves, women are standing up for themselves. Like Priyanka.. she is a strong woman. She knows what she wants. She is a go- getter because she knows what she wants and that's why she is where she is. It's not because someone said 'oh we will give her a chance'..no, she has made that happen! Same with Deepika. You know Kareena did Heroine which was a female oriented film that was out a few years back. I think we are strong and know what we want and we are gonna get it.
Are you going to Salman Khan's leading lady in Dabanng 3?
I can't wait to have an opportunity to work with Salman.. Let's see what happens. (ALSO READ: Did Amy Jackson just CONFIRM working with Salman Khan in Dabanng 3?)