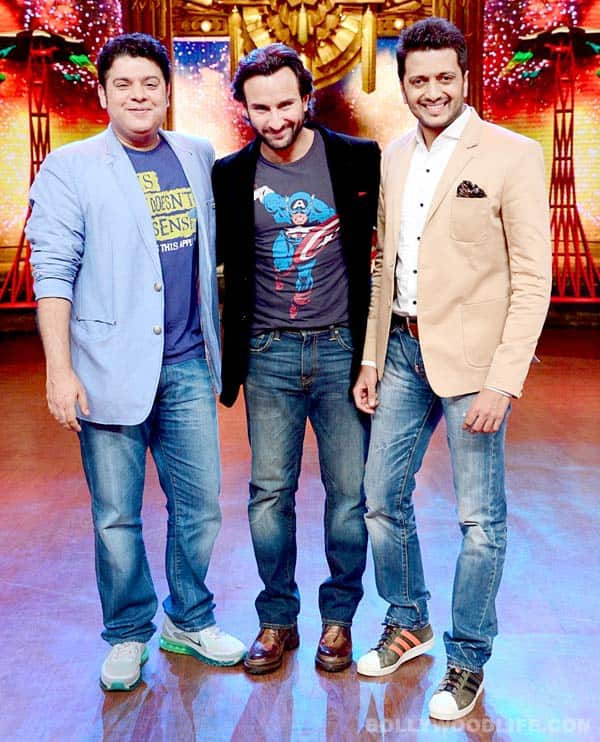 Stars of Humshakals come together for a candid chat and are at their  level best with funny puns and witty one liners. read on to know more…
Here are the excerpts from the interview…
If you had the chance to dress one Bollywood actor in drag who would it be?
Riteish: Hmm… Who has done it before
Saif: I am trying to think… Who would look really good in drag?
Sajid: The answer is so easy – and with due respect – Nirupa Roy!
Saif: Huh? Why would you say that? You would want her to dress her as a man? Drag is a man who dresses as a woman…
Sajid: Drag? I heard which Bollywood actor would you like to dress in black and I said Nirupa Roy because she would always dress in white!
Saif: Oh this is quite a funny start to the interview. 'You said drag? Oh, I heard black!' (breaks into laughter)
Riteish: Sidharth Malhotra because he will make a beautiful girl!
Saif: They would all be scary… Most Indian heroes are tough-looking men!
 Three reasons why you are thankful to God for making you a man and not a woman.
Saif: Because as a man there is no chance of unwanted pregnancy. No periods. Very little chance of unwanted lumps in chest regions. Getting harrowed by stupid people. Leading a less slightly dangerous life in rural India. Less chances of acid attacks by frustrated, perverted men. Are we done here?
Riteish: Saif, it was 'reasons why I am thankful to be a man and not a woman'!
Saif: Oh I went negative. I spoke about five reasons why I don't want to be a woman. Sorry can I rephrase my answers? Okay now let me give the replies.
1. I get paid well in Bollywood.
2 I love the inheritance laws.
3. Hygiene maintenance is simpler. But Riteish is going to find it tough now (chuckles) that I have said it all.
Riteish: Ya I know, Saif! Okay. I would thank God because
1. I don't take more than 10 minutes to dress up.
2. I don't need to waste too much money on shoes as I can just survive on one.
3. Third my handbag can fit in my back pocket (laughs).
Saif: I would have said the same but it's not true. None if that applies to me…
Riteish: Why?
Saif: Because I take forever to get ready, I got almost 100 shoes and my luggage is always too much. (All three laugh).
 Who took the longest to get ready to get dressed up as a woman in Humshakals?
(Saif points at Riteish) Riteish: Like duhhh! Exactly my point! Because I was dressing up as a woman? I don't need so much time to get ready normally.
I asked Saif whether he took faster to dress as a woman.
Riteish: Saif took faster to dress as a woman (controlling laughter) but took a lot of time to get ready as a man!
Sajid: Very good answer.
 The worst part of dressing up as a woman was…
Saif: How to figure out what to do with the salami. Where to hide the meat packages…
Sajid: Their hair coming out and falling on their faces.
Riteish: (Bursts into laughter).
(Sajid tries to make Saif say it was the wigs which was tough to handle)
Riteish: She didn't ask you the question Sajid! Thank you so much.
Saif: Okay, then the hardest part was creating bumps that aren't there and hiding the ones that are.
Riteish: The created bumps put me off balance. I couldn't walk. It's not easy…
Saif: …To walk with unaccustomed weight in different areas was tough.
 Who was the touchiest about their make-up?
Riteish: I never bothered about my make-up by the way.
Saif: I think Ritiesh was more particular about getting the look right and doing it right where as I was quite easy about looking like someone who is not getting it totally right because that was part of the point. If you are a pretty man than girl, I was okay with that.
Saif: Also, the person who did Riteish's make-up was usually the person who did Sajid Khan's make-up and in some shots Ritiesh as a woman looks like Sajid Khan (bursts into laughter).
Riteish: Yeah… It was very very scary…
 What was the first reaction of your wives Kareena and Genelia when they saw you in drag?
Riteish: 'That's my skirt! Can I have it back?' (laughs)
Saif: With Kareena first there was some kind of scream – in shame, like 'Oh no!' But then she was quite supportive and fun.
 One actor who should never attempt to dress up in drag and why?
Sajid: You should say Sunny Deol.
Saif: Suniel Shetty. What would that look like?
Riteish: Sanjay Dutt? (Sajid points out that he's done a drag act) Then Jackie Shroff? (Sajid adds he's done it too).
Saif: I think Rajpal Yadav should never dress up in drag! Wait I will tell you who shouldn't have… RIP Amrish Puri. He would look scary!
 Who looked prettiest in drag?
Saif: Riteish did!
Sajid: Riteish didn't look like someone in drag. He looked like a woman.
Riteish: (looks offended) But I got my brief wrong.
 How would Sajid look in drag?
Riteish: Terrible!
Sajid: I did an interview with you in drag.
Riteish: That didn't mean you looked pretty or cute!
Saif: Sajid in drag would look like a corrupt, fat madam who runs a brothel in La la land.
Riteish: Sajid doesn't need to dress up in drag to look like that! (laughter all around)
Saif: (to Sajid) I didn't say it. God! Look at the way people talk to each other.
 Who does Sajid love more – Saif of Riteish?
Saif: That's quite a controversial question. I don't know…
Sajid: I can answer this. I love Saif more. I can tell Riteish anything and be rude to him also. With Saif I have to be tender and caring to get him to do something.
Saif: That's an unfair question.
Riteish: I think Sajid loves Saif more.
Saif: Riteish. I wouldn't like to say he takes Riteish for granted because he loves him very much and appreciates the fact. With me it's a new thing, I am a new entrant to his world so Sajid is a bit more careful with me. And maybe my temperament is more volatile so he keeps me well pacified which is also fine but it's like a new love.
 One thing Sajid Khan will never live down after Humshakals release…
Saif: I think maybe Akash Khurrana perform a scene where he has to recover and fall back into a coma 11 times in one minute. And of an actor of his caliber that was a tough thing to ask him to do but he did it really well.
Riteish: There were like a lot of little people – what do you call them?
Saif: Vertically challenged?
Riteish: No. A lot of little people… What's the correct word for them?
Saif: You have to say midgets… Dwarfs is a fantastical person from Lord of the Rings. They don't exist.
Riteish: Okay whatever those little gentlemen are called…I would call them little gentlemen and the way Sajid made us treat them in the climax and what they are doing…
Saif: Was extremely politically incorrect! Fortunately, they don't have a political party so we probably won't get sued. (Everyone laughs). There are like seven in Mumbai. I am not scared.
Riteish: No! A little can make a BIG difference!
Saif: Imagine getting crushed by an army of midgets
Sajid: And they will
Saif: That's really evil, Sajid. Don't curse me. If they come to my house and surround it what do I do?
Riteish: Heyyy don't be rude to them haan?
Saif: Yes or we will get sued by them by the Midget Mandal…
Riteish: So to sum it up, I think all the little people – actually just two of them, the way Sajid treated them in the climax he won't be able to live down.
 If you were invisible for a day what is the naughtiest thing you would do?
Sajid: It's so obvious.
Saif: What?
Sajid: Go inside the heroine's van maybe!
Saif: I don't know… See you have to take advantage of sex and intrigue. These are two areas that have to be exploited – either by spying on people that you want to spy on naked… It's like sitting there with your feet up because they can't see you…
Sajid: You have to be naked too because your clothes can be seen.
Saif (yells): Nooo! I don't know what he's talking about?
Riteish: Says who? Have you seen Bhootnath?
Sajid: He is a ghost!
Saif: So it's either spying on someone naked or spying or information. In my experience spying for information can be really damaging to you because people listening at doors never hear good about themselves.
Riteish: Two years ago if you had asked me this question you would have got a better answer!
Saif: It's a joke ya… Stop taking it so seriously. Who cares?
 One thing you would never forgive Sajid for making you do…
Riteish: For making me dress like a drag! I didn't want to but Sajid insisted nahi, nahi ek hi scene hai and then that converted into three dress changes which were bikinis, shirts and skirts.
Sajid: And a ghagra.
Ritiesh: Then you know what was the worst part of it?
Saif: Stalking? Storming into the van when I was adjusting the flowers? That was one.
Riteish: Saif actually thinks Sajid stalks him.
Saif: He does! But I forgive him for that. I forgive him anything because he is one of the most wonderful people I have ever worked with in my life. I don't hate him for it but he has got a slightly obsessive-compulsive nature where he has to get everything done efficiently and well. One day I couldn't dub because I was not well and I was having a foot massage and watching a movie at home. Sajid came into my home announced and plonked himself in front of me staring at me and asking 'why aren't you dubbing?' I was like 'get out of here man!' I am watching TV…
Riteish: …and having a foot massage…
Saif: And then he just sat there for a while because he thought I would change my mind about dubbing. It was fun and yet strange. That's him.
 If you could make out in a car which one would it be?
Saif: I wouldn't make out in a car in India because they would arrest me. I don't know why I know that but I do… I would pick a Rolls Rolls Ghost model because it has space.
Sajid: You should pick an Innova.
Saif: Why? Because I'm appealing to the common man so I will make out in an Innova (laughs). Don't make me do interviews where I can't be myself? That's my view. What should I say? A Maruti 800 which is the size of my appendages? (laughs) A Nano? I could make out in a Nano because then everything would look big.
Riteish: (Straight-faced) If making out was an option, any car would do!
Saif: I would never drive or buy a Rolls Royce because they are petrol-guzzling, not eco-friendly… To each their own but if I had to make out in a car let it be in the Presidential Suite of cars.
 What is Saif's and Riteish's most irritating habits?
Riteish: I don't think Saif has any irritating habit.
Saif: I think what he's trying to say is that 'I don't know Saif that well!' (laughs)
Riteish: I think Saif is the most amazing personality I have met in a long time. Everything he does just keeps me entertained and has me in splits.
Saif: It's not irritating but Riteish has a really brilliant script sense and he thinks about his work so when Sajid discusses a scene in the morning, Riteish raises his hand and points out three major flaws in that. Then we do a re-write and end up performing like Pran saab because that's Sajid's fallback – when in doubt, do it like Pran saab. (everyone starts laughing).
Riteish: And then he does it so well. There's a story of Pran saab that Sajid tells us and I love that story. Saif you have to narrate the story.
Saif: When Sajid asked me to say a dialogue like Pran saab I didn't know how to imitate him. Riteish helped me a lot. He took me to a corner and said 'listen just think of a triangle in the air and with your forehead make that triangle and at any point either way and he's explaining to me like off-spin to a cricketer. You can go ' hello young lady' from the top and hit the bottom just nodding your head according to the triangle. We did this geometrical description of Pran saab's acting which is probably in a way an insult to his greatness but it boiled down to triangles.
Riteish: It's an architectural analysis.
Saif: He gave me an architectural analysis because he is an architect. (Saif now decides to pull my leg as says I look like someone from The Harold Tribune who has come to do a serious interview).
 What is the dumbest pick-up line that you ever used?
Saif: Would you like to come home and see my Picasso? (Riteish roars with laughter) There's a clue – it's in my pants! (Sajid frowns in disapproval).
Saif: Oh Sajid! It's a joke. Sorry! (Saif looks downcast) I need a clone to give bland, politically correct answers.
Riteish: I don't have a pick-up line. I have never used pick-up lines at all.
Sajid: Never tried to pick-up anybody?
Riteish: No. Never.
Saif: (looks shocked): That can't be true. It's such a great moment in a relationship. What about Genelia – go for a coffee? Go for a walk?
Sajid: He told Genelia I love you after two years.
Riteish: Sajid, it's not your interview. But Abhishek once told me 'Walk up to a bar, pick-up the ice in a glass, smash it to the floor and say: Now that the ice is broken what's your name?'
Saif: One really wonders how he ended up with someone so amazingly beautiful! It's such a bad line – to smash the ice on the floor and say now the ice is broken let's talk!
Riteish: I didn't say that he used that line on her! Okay, next question please!
 Blondes or brunettes?
Saif: As long as the collar and cuffs match
Riteish: Both.
Saif: Who are you asking these questions to? Riteish? Who said he's never used a pick-up line in his life, he said I love you after two years to one girl and married her and you are asking him blondes or brunettes? Whatever! Both or none. My answer is best on that one. Which nobody can get.
Riteish: I got it!
 What is your weirdest quirk?
Riteish: Sajid, what's my weirdest quirk?
Sajid: Eating late at night.
Saif: I find it hard to sleep unless I read and eat carrots in bed.
Riteish: I find it difficult to sleep till Saif reads and eats carrots in bed (laughs).
Saif: Sajid has a quirk too – he can't sleep alone which explains many things but forces the young assistants in his movies share a room with him. It's usually a new kid who doesn't know what he's signed up for.
Sajid: I am scared of sleeping alone in a room.
Riteish: And those films are usually their last films (poker-faced) and they go out saying Bollywood really exploits us! (bursts out laughing)
(Sajid protests that all this will get printed and people will take it seriously)
 If you could marry a cartoon character who would it be?
Saif: Jessica Rabbits. (Sajid: Roger Rabbit?)
Riteish: Betty from Archie Comics.
 If you were really gay which actor would you like to have a passionate affair with?
Saif: First of all, I am a little gay so I don't like you saying 'really gay'!
(Sajid looks aghast while Riteish looks amused)
Saif: What! I want to come out of the closet in this interview okay?
Riteish: Grrrreat!
Sajid: There goes your marriage, Saif!
Saif: No. I think it's going to be more fun like – FINALLY! (chuckles)
 So which actor would you like to have a passionate affair with?
Saif: ALL OF THEM!!! Look at them! Some are hunky, some cute, some are like granite…there's something very attractive about these boys, that's why they are where they are. (Turns to Riteish) Out of the three Khans who would you like to have an affair with – Aamir, Shah Rukh or Salman?
(I point out that Saif is the fourth Khan)
Saif: No not me. He has to choose between the three. Khans are people who have had super hits in their first movies and not struggled their way through Bollywood like I did.
Riteish: I choose Saif! That's a safe answer. Better Saif than sorry!
 In a strip club what is the behaviour of a typical Indian male?
Riteish: Front row seat…
Saif: …With masturbation in the back! (Sajid looks scandalised while Riteish and Saif laugh)
 You play triple roles in the films. Which role did you enjoy playing the most?
Riteish: We divided characters into A, B and C. The As were the normal guys, the Bs were slightly brain-damaged because of the electric shock they had and the Cs were the gays. I really enjoyed playing the B like slightly cuckoo.
Saif: The C which were the effeminate ones. The other ones were nice, fun and normal. I enjoyed especially playing the orgasmic parts in the gay characters because whenever we touch any male flesh like even Ram's shoulder, we shiver and shake with orgasmic pleasure and I loved that! (All three laugh loudly).