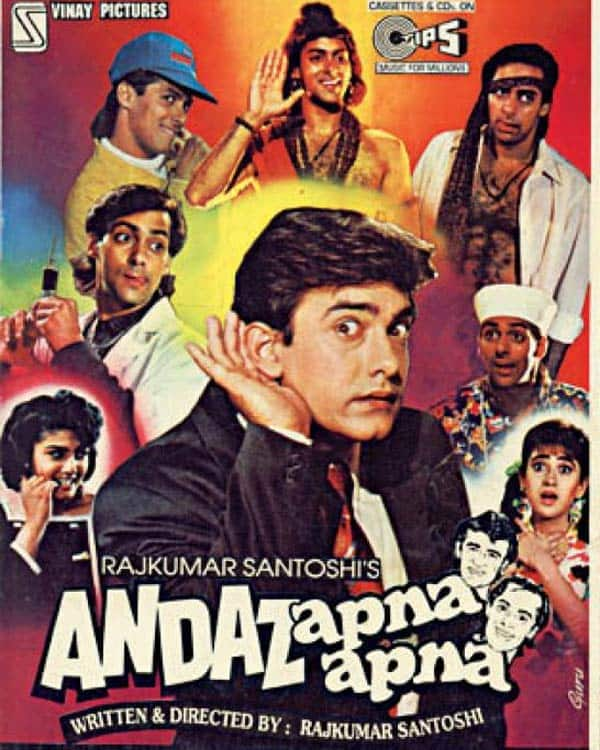 The Phata Poster Nikhla Hero director is keen to make a sequel to the 1994 hit film, but does he have the rights?
It was earlier reported that Rajkumar Santoshi was keen to make a sequel to the Aamir Khan-Salman Khan starrer Andaz Apna Apna with Ranbir Kapoor and Shahid Kapoor. However, it looks like he won't be able to do so as the title and the intellectual property rights of Andaz Apna Apna belong to Vinay Sinha, the producer of the original film.
Sinha has confirmed that he is the only person who can remake or make a sequel to the hit film. He said, "I, alone am the owner of the IPR in the Derivative Rights of the film Andaz Apna Apna and solely entitled to make any prequel, sequel, remake, etc. of the same."
Well, now that Santoshi won't be delivering a sequel to Andaz Apna Apna, we've been wondering if the sequel is on the cards at all. To this, Vinay Sinha says, "We are in the process of undertaking the production, and will make an announcement on the director and the cast within a month."
If sources are to be believed, Santoshi lost the project because of his own high-handedness. Apparently, the project was offered to him in 2009, but he demanded a whopping Rs 5 crore and refused to lower the fees. After much delay from Santoshi's side, the production house finally decided to approach other directors.
We're glad that at least there will be a sequel to the film. But, the question remains, will the Khans be replaced by the Kapoors in the sequel?