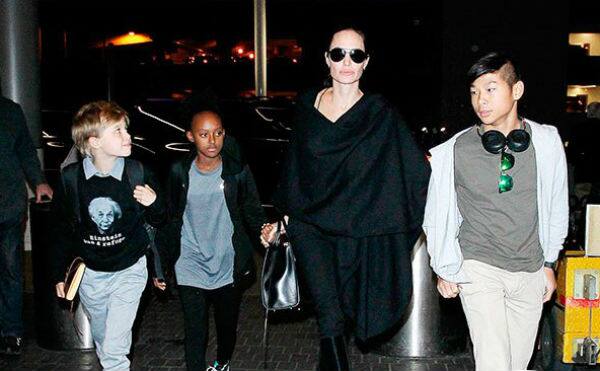 It's only been one day since we discovered that Angelina Jolie, 41, filed for divorce from her husband Brad Pitt, 52. Since then, a move-in van was spotted at their Hollywood Hills home on Sept. 21, leading us to believe the A-list pair is taking their split 100 percent seriously. "Angelina has runaway with her children to a secret Malibu rental to hideout while she and Brad deal with their break-up," a source tells HollywoodLife.com EXCLUSIVELY. "Angelina is giving Brad, who has been in their home alone, space for him to move out or do whatever he needs to do while they deal with the beginning of their divorce." Sounds like a good choice! Also read: 15 pics of Brangelina during HAPPY times that will make you want Angelina Jolie and Brad Pitt to reconsider their divorce!
Our source continued, "Angelina has made her children's privacy a top priority during this difficult time and that is why she made arrangements to be in a secret location during the media frenzy that she knew the divorce would become." As we previously reported, the Changeling star is seeking physical custody of her and Brad's six children, asking that her ex only have joint legal custody and visitation rights. Even though she cited the reason behind their shocking divorce as 'irreconcilable differences,' we've heard that it has more to do with the way Brad was parenting their children.
However, several sources have come to defend the Allied actor, claiming Brad's a "loving and devoted father" with only the best intentions for his kids. Brad reportedly responded to the allegations, saying that Angelina just "unleashed hell," according to TMZ. The actor also issued a public statement, explaining how he's seeking privacy for his family while they adjust. We can see why both of them would want to keep their children out of the spotlight, especially until all of this uproar settles.
(Text by: HollywoodLife)