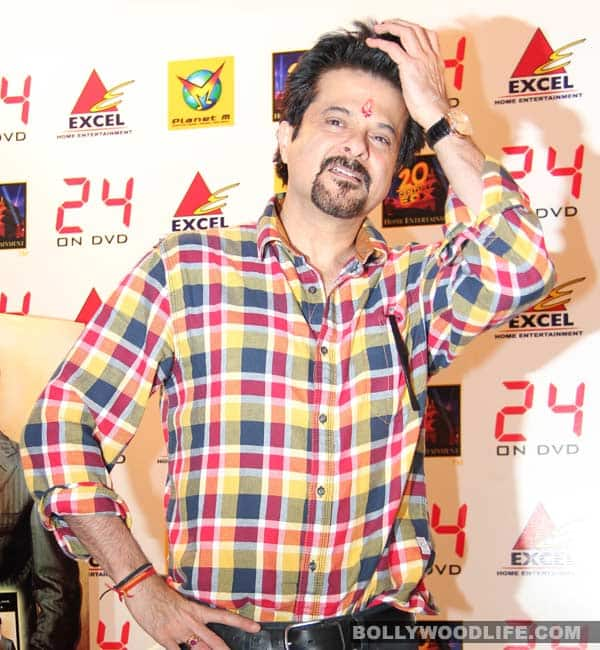 Now that Anil Kapoor has bought the television rights to the popular American TV show 24, will we see the jhakaas actor playing the Indian version of Kiefer Sutherland's Jack Bauer?
It is beyond our sane thinking to imagine Anil Kapoor playing the lead in the Indian version of the much acclaimed American television series 24. The talented actor portrayed the role of president Hassan in the show's eighth season, but it is hard to think of Anil playing the macho Jack Bauer and mouthing the tough dialogues with his peculiar accent, even if it is in Hindi. So here's our take on how Anil will say some of the famous lines from 24 with his very own jhakaas twist to them. Will Jack Bauer's words get lost in translation?
Jack Bauer: Say it again! Or I'll break your other wrist!
Anil Kapoor: Phir se bolo warna main tumhari kalhai marod doonga!… Jhakaas!
Jack Bauer: Son, part of getting a second chance is taking responsibility for what you did wrong in the first place.
Anil Kapoor: Beta, doosre avsar ka bhaag yeh hain ke aapako jimmedari leni chahiye jo aapne galat kiya pehle jagah par…. Jhakaas! (Confused?)
Jack Bauer: We gotta take a chance.
Anil Kapoor: Humein chance pe dance karna mangta hain!… Jhakaas!
Jack Bauer: Do you know how many people lost their lives today because you were doing your job?! Walsh? Jamey? Ellis? How many others?
Anil Kapoor: Tumehein pata hain tumhare wajah se aaj kitne logon ki jaane gayi kyon kit tum apni job kar rahein the? Ramesh? Suresh? Ram ? Lakhan? Aur kitne?… Jhakaas!
Jack Bauer: Because you're worse than a traitor. You don't have a cause. You don't believe in anything. But you would sell anyone and anything out to the highest bidder. So stop wasting my time! Give me a name!
Anil Kapoor: Kyonki tum ek deshdrohi ek dhokebaaz ho. Tumhare paas koi maksad nahi hain. Tumehein kis cheez par bharosa nahi hain. Lekin tum kisko aur kuch bhi bech sakte ho. Toh mera time pass mat karo. Mujhe naya naam do….(Paagal kaho,apni hee dhund mein tum mujhe deewana kaho, Anil might croon the famous number!)… Jhakaas!
Jack Bauer: The only way you're going to die is if I kill you. Your bomb's not going off.
Anil Kapoor: Abe ek hee rasta bacha hain teri maut ka, main tumhari hatya karunga. Tumhara bum kahi nahi jaa raha… Jhakaas!
Jack Bauer: I can make you die with more pain than you ever imagined.
Anil Kapoor: Main tumhe aisi dard-bhari maut maroonga ki tumne socha bhi nahi hoga… Jhakaas!
Jack Bauer: I'm tired of putting my ass on the line for nothing. I'm done putting my ass on the line for nothing
Anil Kapoor: Main mera pichwada line mein leke khada hoon kisi cheez ke liye nahi. Mera ho chukka abhi abhi ki mera pichwada line main hain kuch nahi karne ke liye…. Jhakaas!
Jack Bauer: Let's get something straight, kid. The only reason you're still conscious is because I don't want to carry you. Now get in the van
Anil Kapoor: Arey bachche chalo kuch seedha karte hain. Tumhare hosh main rehne ki ek hee wajah hain, who yeh ke main tumhare maut ke baad tumhe uthana nahi chahata ( I also have to carry my hefty chiffon sari-clad girlfriend). Chalo jao ab bailgadi main baith jao. Basanti taangewali tumhein chod degi…. Jhakaas!
Jack Bauer: Right here, right now, you are going to face justice! And make no mistake about this—this is personal. And if you think for a second that I am scared to put a bullet in your brain…you don't know me. I am going to ask you one last time. Who are your co-conspirators? You have until the count of three, or I will kill you.
Anil Kapoor: Abhi isi waqt, isi jagah tumehein insaafe tumhare chehre par mil jayega. Aur tum yeh bhool mat karna-ki yeh humare aapas ka maamla hain. Aur agar tum ek second ke liye yeh soch rahein ho ke main tumhare bhejein mein yeh bandook ki goli ghusedne se darta hoon..toh tum mujhko jaante hee nahi ho. Main tumhe aakhri baar poochta hoon. Tumhare saathi kaun hain is kaand mein? Main teen tak gennunga, warna mail tumhe khatm kar doonga…. Jhakaas!
Jack Bauer:I regret losing my family. My wife was murdered. My daughter can't even look at me.
Anil Kapoor: Mujhe afsos hain ke maine apne parivaar ko kho diya. Mere biwi ki hatya hui (zarro Amrish Puri aka Mogambo ne maara hoga) Meri beti meri taraf dekhti bhi nahi hain ( aur meri behen ka rape Shakti kapoor ne kiya)…. Jhakaas!
Jack Bauer: (before shooting Ryan Chappelle) God forgive me.
Anil Kapoor: Hey Bhagwaan, mujhe maaf kar dena (if not for anything else then for my weird accent which I accidentally picked from a certain Salman, Abhishek and Saif)…. Jhakaas!