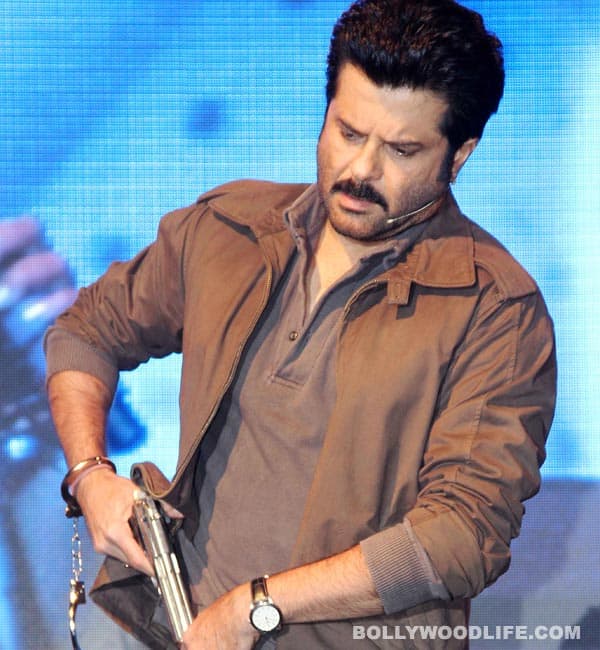 At the age of 53 and after three decades in the film industry the Mr India actor still looks as fresh as a teenager. It seems like time and age never caught up with him
International star Anil Kapoor's enthusiasm, energy, optimism and smile are contagious. The actor claims that he loves taking risks and it's the mundane and ordinary things that make him nervous. Even at 2 am he works like the day has just begun, say his co-actors. We saw proof of that when even after a long gruelling session with the media the man was ready and willing to answer a few more eager questions with a smile on his face. We were tired, but he showed no sign of exhaustion.
Anil, who starred in the eighth season of 24 on American TV, has now brought the franchise to India to make the local version of the show. He talks about the challenges of making such a high-octane story with an Indian flavour, what keeps him going and his justification for entering television.
What challenges did you face while making 24?
We are not exactly getting the kind of money we needed, but we had to raise the bar and make the series as effective as the original – that was a challenge. Less time and even less money – but we were much more motivated and when you are against the wall you do your best and that's what we tried to do in 24. We put our best foot forward to achieve something that hopefully we all will be proud of.
What was your contribution to the making of 24?
My input was that I brought the franchise to India.
What was your role in the show, besides acting?
My involvement was to get the right people. I didn't want geniuses on my show; I just wanted good and hardworking people for this venture – that was my first intent. The actors, director and writers should be honest and put their heart and soul into it, and success will automatically come to you.
Was it difficult to get Anupam Kher and Shabana Azmi on board this venture?
It was difficult to get everybody on the show. I had to convince everyone, but where Anupam and Shabana are concerned – they didn't even blink an eyelid. They said 'Done! Bol, kya karna hai, kahan khada hona hai, hum aate hai (just tell us what to do and where to stand, we'll come)'. Even Rahul Khanna said, 'I am doing it for you, Anil'. Of course, it is the love for 24. The international series is an iconic show. People love 24, the story and the screenplay; it's a show that has been loved all over the world. They want the Indian series to do well and be successful as well.
Did you have any personal choices in casting?
No, we had a professional casting director who has done a fabulous job at it. If you see all the faces we have chosen, they are fantastic.
With the current trend in Bollywood, why didn't you opt to a do a reality show?
Coz I'm mad. I have always been mad. I do not know – maybe it's my destiny to work hard. Reality shows are easy money. And I have always tried to take water out of an empty well, not a well that is full, so I go deep down and dig the water out – that has been my career all my life. But you never know, I may do a reality show, but at the moment my focus is 24.
Do you watch daily soaps?
Yes, in bits and pieces.
Are you happy with the product so far?
I believe I have never enjoyed working so much in my entire career of 36 years as now. I have never been so charged, so motivated, so rejuvenated and so excited ever in my career.
Did the international makers ever interfere with the making of the Indian 24?
They have been wonderful and a great support. I actually want to thank them for trusting me.
How do you see TV as a medium?
I think TV at the moment has the biggest reach and it has to be respected. However, I do not know how many years it will last. 'Coz there is the Internet that is banging on the door and we have to pull up our socks. It's that's the next big thing where everything is will be watched on satellite, telephones and the Internet. That is the future, but at the moment it's television.
What was Sonam Kapoor's reaction to the show?
She loves it and that's why she supports me.
There is a lot riding on 24. Are you nervous?
Whenever I have done something out of the box, I have never felt nervous. In fact, I am nervous when I do films like No Entry or something which is very commercial like Race 2. 'Coz I am doing something very regular, which goes totally against my grain. How am I going to face my children, my family? Nonetheless, I tell them to stop and ask them who will support you, paisa kahan se aayega (where will the money come from)? I have always tried to maintain a balance. I am very confident when I do something out of the box which is risky, something I believe in, and which has the possibility of me failing miserably. And people make fun of me – I enjoy that, as I want people to make fun of me so then I can work even harder.
What was your reaction to Amitabh Bachchan making a foray into fiction TV?
That in fact made me very happy. Mr Bachchan coming on the TV makes my stand to do 24 even stronger.
How is social networking treating you?
So far so good, touchwood!

WATCH: Anil Kapoor's 24 trailer: Rugged, intriguing and intense!