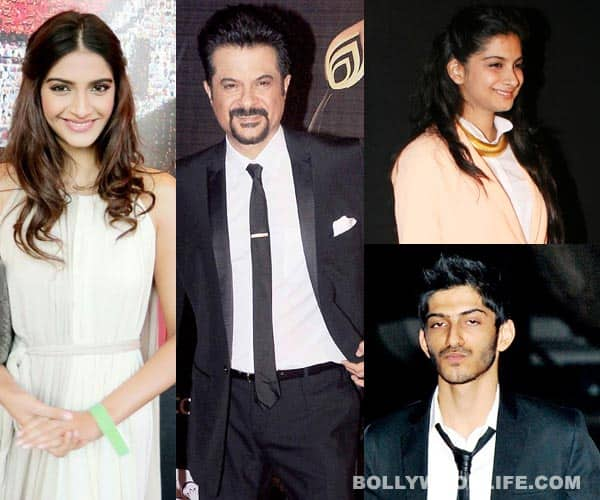 The 24 actor talks about giving all the freedom to his children to choose their career in the 'unsafe' Bollywood industry, and how it has made him proud today
Bollywood is a tough industry and maybe Anil Kapoor's daughters Sonam Kapoor and Rhea Kapoor could have chosen something "safer" to do. But the proud papa says he has always encouraged them to do whatever they wanted to and will continue to back them in their endeavours. Anil said, "This is a tough industry. You feel that it's better if your kids choose something else which is safer, which is less speculative, which is less in the face. Here both success and failure are for public scrutiny. In other professions, even if you can't make it or you change your profession, no one will get to know. This is a very, very challenging profession. And they have decided to be in it; so I have encouraged them (daughters); I have never discouraged them."
While Sonam, 27, has made her mark in Bollywood as an actor, Rhea, 25, prefers to stay behind the camera. Apart from being a fashion designer, Rhea was assistant director on Wake Up Sid and went on to produce her first film Aisha in 2010. She is now working on a new film titled Herogiri.
Though Sonam and Rhea started working at a young age, they still have fun like all other young girls, said Anil, who also has a son, Harshvardhan. "Instead of wasting time or doing something else, they started working. It is not that they don't have fun. They have fun the way all young girls should have. But they became conscious of work, work ethics and respected work at a very young age, which is very good and that I am very proud of," said the 53-year-old.
Sonam made her Bollywood debut opposite Ranbir Kapoor with Sanjay Leela Bhansali's Saawariya, which failed at the box office, but Anil is unfazed. "When your first film becomes a blockbuster, it is very dangerous. You stop growing as a person because then you've got everything easily. Her film not doing well is also a very good thing, according to me. Both Ranbir and Sonam are working and are doing films which they believe in, which they like, with good directors and good producers," he said.
Sonam, who assisted Bhansali when he was making Black, credits her father for being instrumental in shaping her career, but Anil refuses to take credit. "It is her upbringing which makes her say that she is privileged to be my daughter. But I can say very proudly that whatever she is today is completely because of her. The way she became an assistant and started working…it was not easy. She has come up the hard way," he said.
Anil feels Sonam has chosen a tough path, but is confident that her hard work will pay off. "She works in different projects, which shows her inner confidence. She has chosen a very tough path. But trust me it will be very solid," said the actor, who will soon be seen in Race 2, releasing on  January 25.