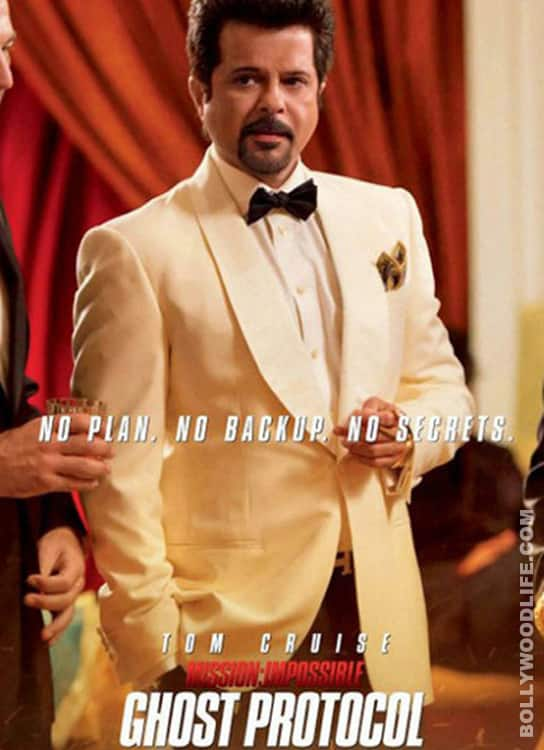 Hollywood star Tom Cruise decided to cash in on Anil Kapoor's huge mass appeal amongst Asians and insisted on featuring the jhakas actor on the MI4 movie poster
Just a few days ago when we saw the theatrical release of the much touted Mission: Impossible – Ghost Protocol, starring Hollywood heartthrob Tom Cruise, we could barely see Anil Kapoor's presence in it. It was just a blink-and-miss sort of existence of the Slumdog Millionaire actor in the promo and the poster. This made us wonder if Kapoor has any significance in the movie at all. We did not see him anywhere as the promotions of MI4 started gaining momentum. But going by the new poster released by the production house of the film, featuring Anil Kapoor prominently on it, we heaved a sigh of relief!Kapoor, who is playing an Indian business honcho in the film, looks classy in his white tuxedo in the exclusive individual poster. It's learnt that Cruise himself was adamant on having his new friend Kapoor on the poster, in order to cater to his fan base amongst Asians and especially Indians. Kapoor is quite a recognisable face in many parts of the world especially after his performance in the Oscar-winning film Slumdog Millionaire. Wethinks it's wise of Cruise to put him on the poster to drive the 24 actor's fans in the theatres. Apparently, the two actors bonded well while shooting the movie. So much that the Indian actor is playing an important role in sketching out Cruise's Mumbai visit's itinerary and might even host the star at home. We hear B-townies have already started forming a serpentine queue outside Kapoor's house in Mumbai to meet one of the sexiest men in the world – Tom Cruise!
ALSO SEE:
Anil Kapoor's blink-and-you-miss-him appearance in MI4′s new trailer!