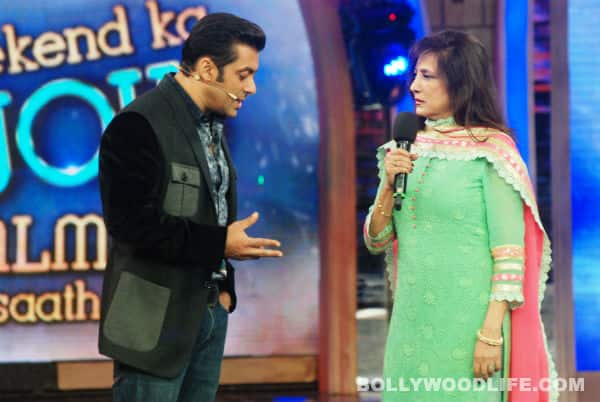 After spending 21 days inside the Bigg Boss 7 house, the live-in partner of late superstar Rajesh Khanna becomes the third contestant to bid adieu to the reality show
Anita Advani was perhaps one of the most controversial figures in the Bigg Boss 7 house. The lady claimed to be the live-in partner of late megastar Rajesh Khanna and even complained that she had been sexually harassed by Khanna when she was a child. Soon after the star's passing, Advani claimed her share in his property, Aashirwad. She has also accused Khanna's estranged wife Dimple Kapadia, elder daughter Twinkle Khanna and son-in-law Akshay Kumar of taking his thumb impressions on documents while he was hospitalised, thus depriving her of her rights. Phew! So many controversies for one person, right? But that is the best qualification for being a contestant on Bigg Boss, we know.
However, Anita's controversial past didn't help her stay inside the glass walled house for too long a time. After spending just 21 days on the show, Anita Advani said good-bye to Bigg Boss 7. We caught up with her post her exit and she talked about her time in the house and the controversies in her life…
What was it like spending 21 days with total strangers inside the Bigg Boss 7 house?
It was fun. I started bonding with other housemates very fast. So it was very wonderful journey for me inside the Bigg Boss house.
Initially many housemates were of the opinion that you were fake and didn't deserve to be inside the house…
I was fake? Really? I wish it was true! If I was being fake, then I should have been inside the house right now.
Has Bigg Boss 7 changed your outlook on life?
Definitely. After coming out of the house, I feel much lighter and easier. I had a completely different life for 21 days while I was inside. I entered the Bigg Boss house to put an end to my depression. Mera depression khatam toh nahi hua, but I was a bit relieved while I was inside the house. Now all I want is some peace in my life. That's it.
You got very emotional while you were leaving the house…
Yes, I got a bit emotional. Because kuch logon se main kaafi close ho gayi thi. So I was sad when I was going away from those people.
Who were those people?
Tanishaa (Mukerji), Shilpa (Agnihotri) and Ratan (Rajput) were the people I was very close to. In fact, thodi thodi bonding sabke saath ho gayi thi. Sab mere kaafi acche dost the. Hum bahut mazaa karte the.
When Rajat (Rawail) came out of the house, he said that you were the scapegoat…
Ohhh! Then I think he is very smart. Usne bahut acchi study ki logon ki, jo main nahi kar paayi. He was right. He felt that people are using me for their comfort and to a certain extent it was true.
Now that you are out of the house, what's next for Anita Advani?
Aap hi mujhe bata dijiye. Kaash main ye bata paati. Aap bataiye ki aap mujhse kya karvaana chahte hai?
Maybe you can try your hand at acting in Bollywood films…
Arey baap re! Mujhe nahi lagta that I am a good actor.
Any regrets?
Well, there was this one regret, that I couldn't be bitchy like others inside the house. Mujhe apne aap se naarazgi hai. I wish mujhe God ne itna bhola nahi banaya hota.
You had a taste of both Hell and Heaven inside the house. Which did you enjoy most?
I had the best of both worlds. Because initially Jannat was very good in terms of facilities, but there was a lot of work to do there. Making food for so many people with limited resources was not an easy task. We enjoyed a lot in Jahanum also, because we used to just rest in Jahanum. Humein khaana haath mein milta tha. There was no work at all. However, Jahannum mein bathroom ne humein maar daala. The sanitation facilities in Jahannum were awful.
If given a chance, would you like to enter the Bigg Boss 7 house again?
Let me see the footage first. I will learn to play some games. Once I know how to play games, then I would surely like to go inside the house again.
Who are the genuine or fake people inside the house?
Well, I won't differentiate people as fake and genuine. But all I will say that all of them are very good players.
Are we seeing a love triangle inside the house between Kushal, Gauhar and Asif?
That's all for TRPs, I think. Whether they are really attracted to each other or not we will come to know only after they come out of the house.
On the premiere night of Bigg Boss 7, Akshay Kumar was there to promote his new film. But according to reports, his appearance was timed in a way that you didn't meet each other…
I didn't have any problems in facing him. Mujhe kuch farak nahi padta, kyunki I am not a liar. I was all ready to face him, but looks like he wasn't willing.