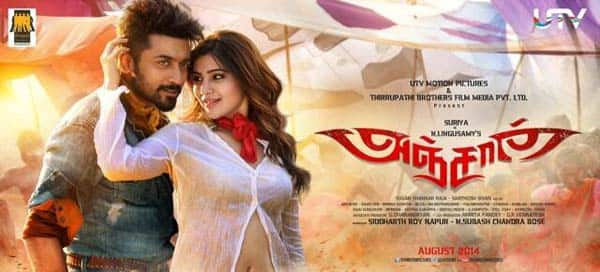 The first half packed with action and romance ensures there is never a dull moment
Anjaan tells the story of two brothers Raju bhai and Krishna. A crutch wielding Krishna searches for his missing gangster brother as the story goes on flashback mode. We get an insight into the life of Raju and his partner in crime aka best friend Chandru, who are climbing the ladder in the crime world. While commisioners daughter played by Samantha falls for Raju bhai played by Suriya, a tussle with Mumbai's biggest don Imran played by Manoj Bajpai kills Raju Bhai and Chandru. Will Krishna find out the murders of his brother and avenge his death forms the crux of the story. The film has some amazing performances from Suriya and Samantha, whose romance is the highlight of first half. The camaraderie between Suriya and Vidyut is infectious.
The first half belongs to Suriya who dazzles as the uber cool gangsta giving one of his finest performances. Samantha gets an interesting role to play and makes the most of it. The background score from Yuvan Shankar Raja is apt and the cinematography deserves a special mention as colours literally melts in your eyes. N Lingusamy is in the top of his game showcasing his unique vision as a director. Lets see what the second half has in store.
The following has been reported by our correspondent who is watching the film as you read this quick review. Watch this space for Anjaan's final movie review!