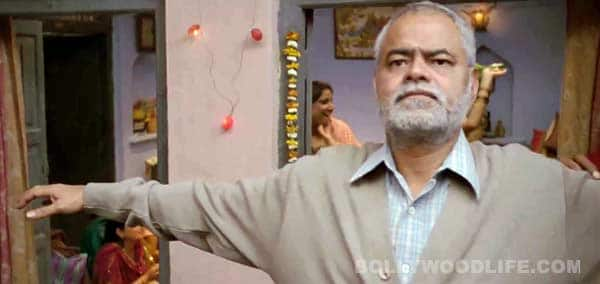 Music: Sagar Desai
Singers: Kailash Kher , Ronkini Gupta , Shaan, Mansheel Gujral
Lyrics: Varun Grover
Ankhon Dekhi comes across as a different movie, much like Rajat Kapoor's previous films Bheja Fry and Phass Gaye Re Obama. So needless to say that the music will be at par. Ankhon Dekhi's music is much like a whiff of fresh air 'coz of the heavy influence of classical music carefully juxtaposed with Varun Grover's lyrics. Let's take a look at the songs individually.
Aaj laagi laagi nai dhoop: This soulful track will remind you of the not so bright and warm winter sunshine that makes you smile (we're sure every Indian who has seen below 10 degrees temperature will relate to this one!). The lyrics will touch a chord of your heart for sure. All in all, a good track that is definitely worth listening to.
Aayi bahaar: Set on the base of chaar taali (the entire song is woven on the background of rhythmatic four beats), Aayi bahaar will remind you of an old movie's Kathak track which is articulately fitted in today's world. There are two things that set apart this track – one, the extensive use of violin and two, Varun Grover has done such a beautiful job with the lyrics that one can easily imagine a seasoned Kathak artist gesticulating each word, carefully placed on each note. The classical interlude with beautiful jugalbandi of violin and tabla  in the track only makes for a delightful imagination of a Kathak performance on this number. Needless to say, it is only because of Kailash Kher's right stress on each word that the song blossoms in the way it does.
Kaise sukh soyein: A song that can give you goosebumps if you're a lover of classical music! While we thought we would be able to aptly describe what this song is all about or sing praises for Ronkini Gupta, we were more than disappointed with ourselves. An out and out classical number with Gupta's flawless harkats, Kaise sukh soyein transports you to an era where people sat on a rocking chair with their eyes shut, listening to timeless music. There's only one thing missing from that scene today, a gramophone!
Yaad saari baari baari: This one's probably the weakest track in the album. We say so because if you're listening to the album at once then this will be Kailash Kher's third track and frankly, Yaad saari baari baari sounds like just another Kailash's track. There's no doubt that Varun has done an amazing job at the lyrics and the music is delightfully different in the beginning but (at the risk of repeating myself), Yaad… ends up sounding like a typical Kailasa song.
Hakka bakka: Let's all welcome Shaan with this hilarious track. There's a nasal twang to Shaan's voice which makes him sound new and fresh. The lyrics and music add the much needed fun. By the end of the track, you might feel like you're listening a to circus' background music. This one will surely bring a smile to your face.
Dheeme re re: Another slow track of the album, Dheeme re re plays on the magic of words and the soulful voice of Mansheel Gujral. As the song gradually unfolds in your ears, it will with itself, unfold a mother's message to her daughter, who's about to become a bride. Kudos to Sagar Desai for this one – while in other tracks, the music and the singers play the heroes, he has given a much deserved standing ovation to Varun Grover's work in Dheeme re re.
Our verdict: The album is a must have. Why do we say it's a must have and not a must listen? Well, mostly because we're quite sure that you wouldn't be able to just listen to the songs once (talking out of experience), so it's better to have your own copy of Ankhon Dekhi's music album. Sagar Desai and the singers have done a fabulous job. That's not it! It's the lyricist Varun Grover, who deserves a special mention here; he might just be our generation's Gulzar sahab in the making.
Rating:
out of 5
Reviewed by Kritika Ajmani
* Poor
** Average
*** Good
**** Very good
***** Excellent