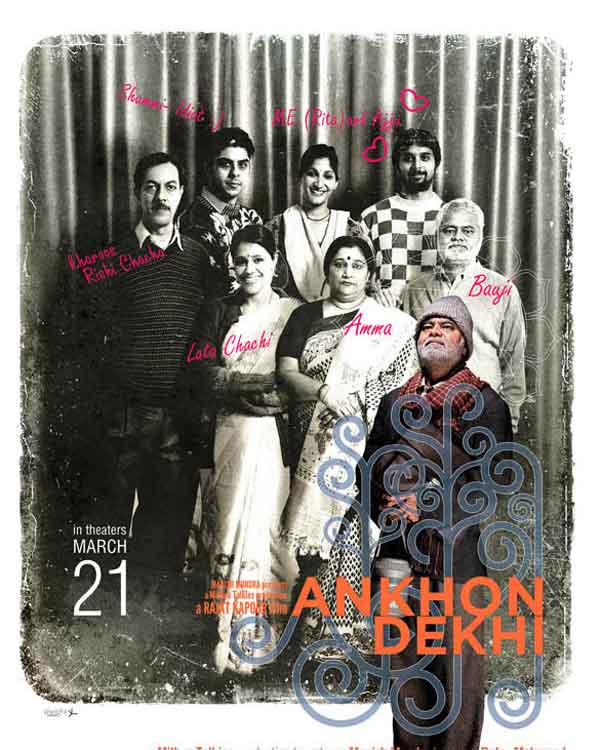 Rajat Kapoor's low budget flick Ankhon Dekhi may have failed at box office, but it was adjudged as the Best Film  at ImagineIndia Film Festival
Rajat Kapoor's Ankhon Dekhi has won Best Film at the annual ImagineIndia Film Festival in Madrid. Sagar Desai won Best Music for his compositions for the film. Sampat Pal Devi won Best Female Protagonist for Nishtha Jain's documentary Gulabi Gang. Kaushik Ganguli won a Special Mention for his Satyajit Ray homage film Apur Panchali.
These awards are the latest in what has been a wave of acclaim for Ankhon Dekhi. The film premiered at the HBO South Asian International Film Festival in New York last December, and was released in India in March. Though critical appreciation was huge, it did not translate to box office and the film collected a modest 75 lakh rupees.
Ankhon Dekhi is the latest case in point for what we call 'festival' films. While everybody agrees that these are worthy, well made films with unusual storylines, does an audience exist for these outside festivals? Supporters of such films will be quick to point out the success of The Lunchbox, which is marching towards nearly 100 crore rupees collections globally and Monsoon Wedding that grossed 184 crore rupees worldwide. However, these are the kind of films that come around once in a decade. It took more than a decade after Monsoon Wedding's 2001 debut for a Lunchbox to come along and make money in that range.
The reality is that the vast majority of these independent or festival films do not see the light of day beyond festivals or a limited release in nice slots like PVR Directors Rare. Two Cannes selections for example, Peddlers and Monsoon Shootout, have not been seen outside of festivals. And some of these releases are what Filmistaan director Nitin Kakkar has referred to as 'token releases' where there is one early morning screening, one late night screening and tickets are charged at the same high prices that you'd pay for Godzilla, or Salman Khan's Kick. In many cases, the so called distributor does not even pay for publicity and posters, leaving the filmmakers to foot the bill and desperately try and promote the film via social media.
In such a scenario, Disney UTV needs to be lauded. They released Ship of Theseus, Shahid and are now giving a 450-screen release to Filmistaan. Again, Filmistaan is an utterly original film that tells an unusual and compelling story. It has been a festival darling and is one of the best films releasing in India this year. However, it does not star Shahrukh Khan, Aamir Khan, Salman Khan, Akshay Kumar, Ajay Devgn or Ranbir Kapoor. On June 6, it is up to you, the paying public, to decide whether to reward fresh, original storytelling, or stick to star vehicles. We both know what the answer is, but it can be argued that there is room for both types of cinema in this gloriously diverse country of ours that churns out more than 1600 films a year.