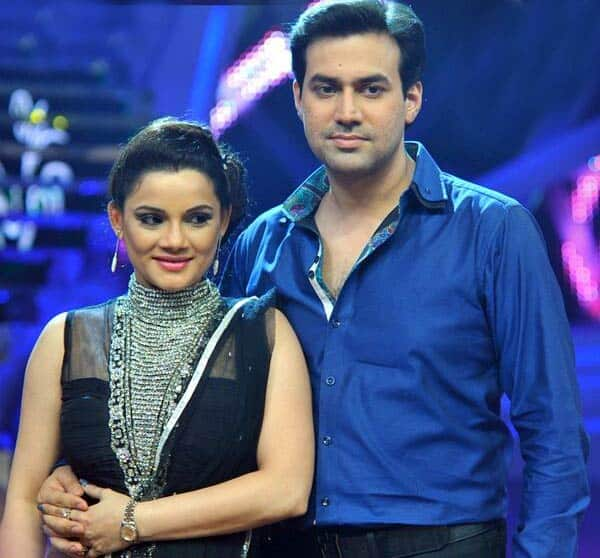 We have all heard how the Nach Baliye 6 contestants are going through rigorous training sessions. And someone or the other is injured – Gurmeet Choudhary, Asha Negi, Rithvik Dhanjani and now Ankur Ghai – baliye of Kanika Maheshwari….
The contestants of Nach Baliye 6 are still dancing with smiles plastered on their faces, in spite of injuries, exhaustion and very critical comments. After all, the show must go on, right? Ankur Ghai, the husband of Hindi TV soap queen Kanika Maheswari talks about being married to an actor, his experience on the coveted dance competition and how he manages to keep up with the pressure of the show. Read on…
Let's start with your love story…
We met in 2003, in college. We instantly developed a liking for each other, but Kanika had her dreams to pursue, so she came back to Mumbai and I had my career – the construction business – for which I stayed in Delhi. We didn't see each other for eight years after that. We both knew each other, but Kanika had her acting dreams and I had my career. So yeah… we had a gap of eight years after that.
You had a gap of eight years between 2003 and your marriage?
Yes… eight years, and then we suddenly connected over the Internet, started talking to each other, met each other and liked each other all over again. The good part is, we were both single then – neither was she married to anybody, nor was I. So you know, it kinda clicked there and we thought of giving it a try. And, that's how we ended up married to each other.
But even after marriage, Kanika was in Mumbai because of work – how did you manage?
She used to be in Mumbai for a week and then spend a week with me in Delhi. She used to travel a lot.
How do you take her acting career?
I like her serials. I like the characters she portrays. Basically, before being my wife she is an individual and I don't want to push my opinion or thinking on her. She is completely free to do anything she wants. Like I am an individual and free, so is she. I respect that and give her her space.
Any plans of shifting to Mumbai?
No, not really. I haven't thought about it and I have my business in Delhi. If something really good and exciting comes up, I will probably give it a thought.
So we could see you acting with her soon?
Yeah, if something exciting comes up. I can definitely do it. Besides, it gives me a chance to spend more time with Kanika.
Let's talk about Nach Baliye 6 – how has the experience been so far?
My experience has been really very good. Everybody on the sets is very sweet and warm to me. The judges and the contestants have been very nice to me and I'm getting good feedback, so I'm in a happy space and I'm pleased to be doing the show.
You're not from an acting background, so how difficult was it to adjust to the whole camera setup?
Very… I haven't faced the camera at all and the whole thing is very new to me. I have never danced, forget dancing on stage, on Nach Baliye, a reality show or on national TV. I was terrified in the first episode. But gradually, I learnt how to face the camera, different angles, and my nervousness just went.
How did Kanika's experience help you?
It helped me a lot… She would help me wherever I got confused, right from facing the camera for a dance show or giving interviews. They are totally a different ballgame, you know! It's different when you are just talking to the camera for a channel but here, onstage, there are like 40 cameras and everybody is watching you dance. If the choreographers have taught me how to dance, Kanika has taught me how to face the camera.
Who do you think is your competitor in Nach Baliye 6?
I think everybody is a competitor for us, because we are non-dancers and we are competing with really good dancers on the show.
One jodi that you think might be a threat to you…
No, no, no… I won't name anybody, because everybody is a competitor for us.
Okay, who do you think is the weakest jodi right now?
Aaaa… (long pause) I can't comment on that, because everybody is doing their best…
Come on… you've seen everybody dance…
No, no, no… See everybody is doing really well. So I can't say that anybody's weak. But yeah, I do feel we are weak right now, because we were unsafe day before yesterday. So I'm just hoping that we do well and go a long way now.
So what is your strategy to bounce back?
Our strategy is to do something different now. We are doing a sensual number in the coming episode, something we haven't tried in the last four weeks. We want to do something different so that the judges feel that we are worth it all.
How have the rigorous training sessions been? One moment where you felt, this is it…
In every episode! Every rehearsal I feel like that! See, in my business I have more mental pressure… this dance and all, I have never done. Here, we have physical pressure and exercise, so it gets really difficult coping. Every time I do it, I feel ki yaar, ye kahaan aa gaya mein (where have I come)? Why am i doing this? Accha khaasa I was in Delhi doing my business. We have bruises all over bodies and we are dog tired by the end of the day. I just hope that the outcome of this is good, because we have a lot more episodes to go.
As the show progresses, the training will get harder. How will you cope then?
It has… it has… it has…! We are doing five lifts in the next episode. It's really tiring for me, for her and we are bruised all over. So I think the next episode is the toughest for us.
Is it because you have to prove yourself?
Exactly, now the competition is very tight – neck-to-neck. Now we have to compete with all the dancers.
Who do you think are the top three jodis?
I think Gurmeet Choudhary-Debina Bonnerjee, Rithvik Dhanjani-Asha Negi and Kiku Sharda-Priyanka Sharda. Kiku is dancing really well and he is getting a lot of votes. I think he is definitely in the top three.