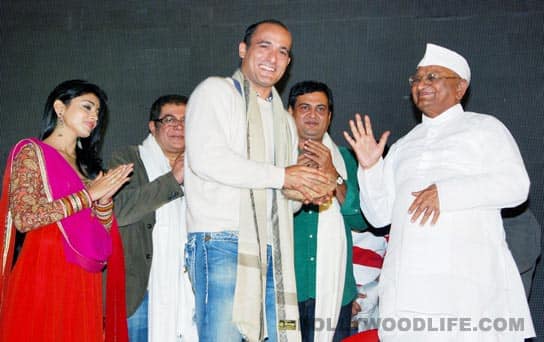 skip advertisement
Social activist Anna Hazare is happy that the Akshay Khanna film supports his movement against corruption
Around 2,000 villagers gathered at Ralegan Siddhi to watch the special screening of Rumi Jaffrey's Gali Gali Chor Hai along with social activist Anna Hazare and actors Akshaye Khanna, Shriya Saran, Mugdha Godse and Annu Kapoor. The movie was screened for Hazare and his villagers on a specially created LED wall screen in an open auditorium.
Hazare greeted and welcomed the cast of the film and praised them for their effort. He also watched the whole film and appreciated it."It supports my message and movement. Every youth, every child, people of all age in India should watch this film as it motivates the depth of being a common man and it motivates every individual to be a good citizen and have a corruption-free country. This Republic Day, every Indian should be corruption-free from within first, and then work towards fighting corruption."
For Jaffrey and producer Nitin Manmohan it was a proud and emotional moment to have the activist watch their film. The director also said that sitting next to Anna and getting to watch him laughing and clapping on every scene was an amazing moment for him. As the movie is set to release on February 3, we wish the cast and crew of the film best of luck!
Photos: Yogen Shah