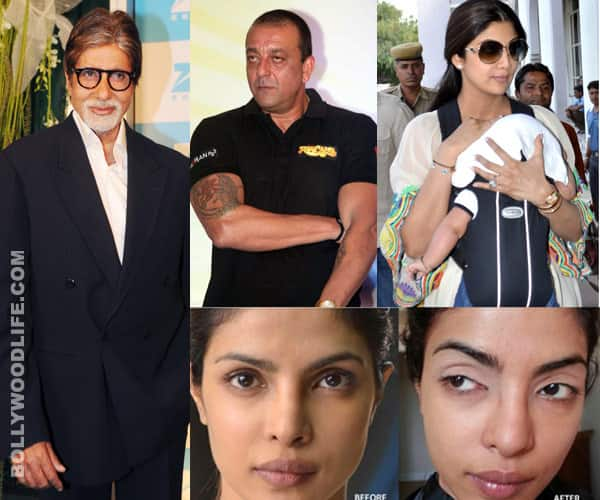 We wrote about it and you read it – here are the biggest stories of the year that helped make BollywoodLife bigger and better than ever!
Being on the Internet has its advantages. Here we can interact with readers in real time and know how the react to us through their comments. We understand what people want to read and, most importantly, which stories they have loved, responded to, commented on. And this has been hugely helpful in our journey to our second birthday. Besides knowing our readers' tastes, this knowledge helps us work harder towards getting quality Bollywood news online, asap, just for you. And what did you read most this past year? Check it out!
Yash Chopra's untimely demise: When India's most famous director passed away too soon, what happened? Commotion, utter chaos. This story was as tough for us to write as it was to accept. The newsroom at Bollywoodlife was in turmoil, as phones rang off the hook with our reporters busy covering the death of an icon.
Amitabh Bachchan turns 70: The country's biggest superstar celebrated his birthday with much fanfare, and everyone who was anyone in the film industry was present. From the oldest to the youngest, everyone arrived in style, dressed in their couture best. And we told you all about it…
Aaradhya Bachchan named: India's most famous baby, guarded fiercely by her parents Aishwarya Rai and Abhishek Bachchan, was finally revealed in all her cuteness, first at the airport and then at an event. Even as mommy Aishwarya was being presented with the prestigious Chevalier dans l'Ordre des Arts et des Lettres, Beti B grabbed all the attention with her tiny tantrum. And that gave you, through us, the first official look of the most famous baby in India!
Atif Aslam wedding pics: When the Pakistani singing sensation tied the knot girls around the world, urged on by sheer happiness or envy, were dying to know more about just who the lady was who broke a million hearts when she captured Atif's! Well, we brought her to you before anyone else did, and in our wacky style too…and you just couldn't get enough!
Best and worst dressed at IIFA 2012: Big or small, awards shows that celebrate Bollywood are always a big deal. Our celebrities make sure that they turn up in their glamorous best to these events. And their fans are always alert, ready and more than willing to imbibe the way their icons dress, walk, speak, turn….. But at times we needed to be there, our style writers working overtime, separating the chic and the slick from the plain awful. And you really lapped up all the frills!
Raj Kundra and Shilpa Shetty's new baby: Shilpa Shetty Kundra and her hubby didn't make too much of a fuss about showing their baby off, unlike Ash and Abhi. While leaving the hospital, the new parents were all smiles, revelling in newfound parenthood, and didn't shy away from the media one bit. And soon we got official photos of the cutest little boy ever – you saw those, right!
Priyanka Chopra's look as Mary Kom: We may need to apologise later to Sanjay Leela Bhansali for spoiling the surprise he had planned for Priyanka Chopra. However, when we learned that the director had failed to pay the makeup artiste for the look test he did on Priyanka, we had to let it be known. And you swooped in on the juicy news – it became one of the most read stories this year!
Son of Sardar vs Jab Tak Hai Jaan: Seeing these two big ticket movies release on the same day was like watching two gladiators sweating it out in the arena. And the fight between them was not only onscreen. Off screen too, the two behemoths called Shahrukh Khan and Ajay Devgn fought tooth and nail for screen space. Ajay's production house slapped a case on Yash Raj Films for using clout to suppress SoS in favour of JTHJ. Well, we had fun watching the battle, as much fun as you did reading it.
Sanjay Dutt Mumbai bomb blast verdict: When the Supreme Court sentenced Sanjay Dutt to five years in prison, it came as a total shocker, since everyone expected that the star would be let off. We got comments and emails by the hundreds from people who were all stunned and awed by the announcement. It was tough for us to report the story, but we have a responsibility to you, our readers, who were keen to know more about the fate of their favourite star.