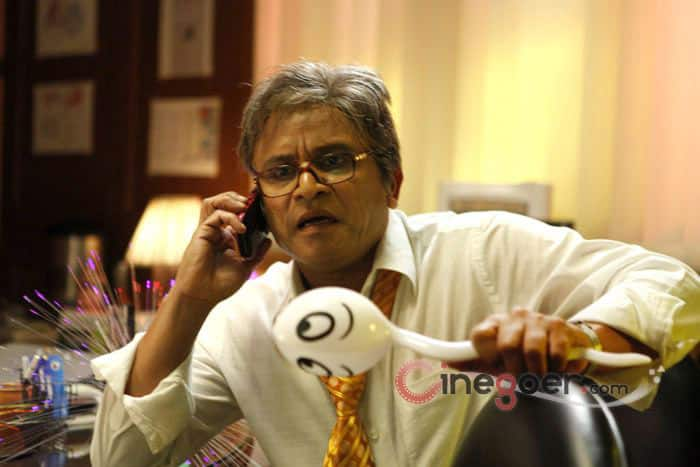 A light-hearted take on sperm donation, Vicky Donor is not a serious film though at the core it deals with taboo topics like infertility and masturbation – which we fear to discuss openly, says Annu Kapoor
"If a man wants to donate his sperm, he must ejaculate without sexual intercourse, right? So even before infertility and artificial insemination, we are discussing masturbation here, aren't we?," asks Annu Kapoor, who will be seen playing sexologist Dr Chaddha in the new John Abraham production, Vicky Donor. "Self-pleasure is a normal thing. Why then are we Indians afraid to talk about something that is very natural, something we are born with? We are raising all these questions in Vicky Donor and our take on these taboo subjects is tongue-in-cheek," says the veteran actor as he sets the tone of this interview. Annu adds, "I don't understand why sex or any form of art revolving around it creates such a hullabaloo in our country. People don't want to come out on the road and protest against issues like corruption or black money stacked away in Swiss banks. Why then are the same people getting worked up when it comes to sex? Isn't this nonsensical? Sex is holy for me; we all are born out of it – that's the reason why my character Dr Chaddha rightly says in the film that the whole world is a sperm, 'Puri duniya sperm hain'."
Last year Annu was seen in the role of a lecherous police inspector who falls in love with Priyanka Chopra's character in Vishal Bhardwaj's Saat Khoon Maaf. He went on to a play a corrupt cop in the Akshay Khanna starrer Gali Gali Main Chor Hain earlier this year. And now he will be essaying yet another quirky role in Vicky Donor, slated for release this Friday. "If films like Vicky Donor, Paan Singh Tomar and Kahaanidon't sell, then it's a shame for our cinema. These are experimental films which hold up a mirror to the society we live in and reflect our socioeconomic psyche as a country. Such movies must sell. What is sold in the name of commercial cinema is good for the economy and I am not against it, but an intelligent film should do equally well, otherwise we will be deprived of creativity and realism," he points out.
In a career spanning over 30 years Annu Kapoor has done distinctive work as an actor. In films like Mandi, Utsav, Arjun, Mr India, Ghayal, Gardish, Raincoat and Saat Khoon Maaf he has shown his unquestionable acting prowess. On the one hand he's happy with the way cinema is evolving in the country, as young directors are pushing the envelope by producing brilliant stories; on the other hand, he fears that over-commercialisation can push bad, mindless films down the audience's throat. "Everyone is here to make money. Very few care about contributing to the industry to bring about a change. I think it's a social responsibility of the corporate giants who fund the no-brainer star studded films to support good films as well. For every four duds produced at the box office, at least one real good film should get financial support. We needed Richard Attenborough to make a film on Mahatma Gandhi which went on to bag Oscars, but an equally remarkable film on Sardar Vallabhai Patel made by Ketan Mehta, in which I played Gandhi, doesn't interest anyone, let alone achieve success. Everybody looks at Dharavi (the slum) with utter disdain. A certain Danny Boyle comes here, makes Slumdog Millionaire and bags tonnes of accolades, awards and critical appreciation. Why can't we have faith in our own reality and weave a wonderful story? Why do we require a foreigner to show us our own beauty? Are we blind?" Annu questions.
Just like our democracy, our society and our economy, our films too are evolving and Annu is optimistic about the days to come. "We are slowly moving beyond candyfloss cinema, but we have a long way to go before our films become globally competitive as far as subject matter is concerned. It's wrong to get excited and say our cinema is going global. It is bound to go global, but the real reason behind it is that every sixth individual on this planet is Indian. Just because our films are watched all over the world, specifically by the Indian community settled abroad, we can't boast about it, saying that we have arrived on the international stage. I believe we have the capacity to go international; all we need is will power, foresightedness and guts. We need to dare to be different and stop following stupid American trends and copying them and serving it up to our audiences in the name of cinema. I also believe that positive changes are taking place in Indian cinema and we are a globally known entity today, but we are at an embryonic stage as far the ideation of original content and its execution is concerned. I think with films like Vicky Donor we are trying, in our capacity, to create something different. In the end, and broadly speaking, our film is a love story, for that's what sells. But at least we have used a path-breaking backdrop of sperm donation here. Which is in a way very risky, but I hope the risk will pay off," concludes the 56-year-old man called Annu Kapoor.