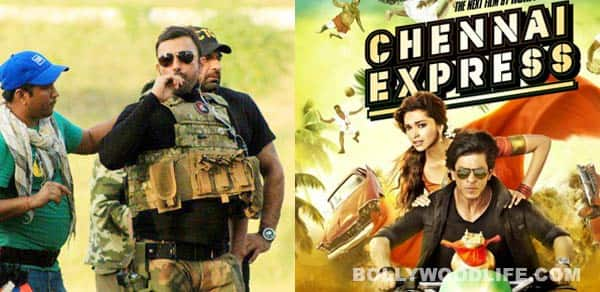 Cineswami compares the success of the recently released Pakistani film with the SRK starrer in Pakistan
Bilal Lashari's Waar, Pakistan's biggest budget film ever, opened over Eid, against Boss and is breaking box office records. Chennai Express previously held the opening day record in Pakistan, collecting Rs 90 lakh. Waar has beaten it, collecting more than Rs 1.1 crore. Starring ageing local heartthrob Shaan, Waar deals with Pakistan's war against terror and squarely blames Indian agents for the mess the country is in. Going by the box office collections, Pakistanis have bought into the film's anti-India rhetoric.
To be fair, not all Pakistanis have embraced it. Film critics, not that anyone cares for them, have panned it. Mohammad Kamran Jawaid, reviewing for leading local English language daily Dawn wrote: "At about forty minutes into Waar, I was compelled to 'tweet' MY status; the expletive-free version here pretty much asks the same question: when would Waar start thrilling. The answer: pretty much never. As the first of what I presume many future plotless, scriptless actioners from Pakistani New Wave, director Bilal Lashari's long-in-production actioner is as ineffective as any late night B-movie on counter-terrorism units working against the clock to stop local and international villainy. Only here, the clock never starts. The climatic brawl actually has a timed-bomb ticking away – not that it makes a squat of difference."
Jawaid goes on to laud the film's technical aspects but bemoans the fact that most of the film is in English. He ends by writing: "The baddies die, obviously. So do you, at one point." Perhaps Lashari's aim in making the film in English is to cater to Hollywood audiences.
Hollywood appears to have come a calling for our very own Sridevi. The darling of the plastic surgeon's scalpel made a roaring comeback after a gap of a decade and a half with Gauri Shinde's English Vinglish. She is now in talks to star alongside Meryl Streep in Amy Redford's Cowboys And Indians. Amy is Robert Redford's daughter. Let's hope that the role is a substantial one.
Meanwhile, after successfully entering the Tamil and Malayalam markets, Disney UTV has now trained its sights on Telugu. In association with Indira Pictures, Disney UTV will produce an as yet untitled Telugu film starring Mahesh Babu, to be directed by Koratala Siva. The film will commence principal photography in July 2014.
The usual platitudes presented below for your delectation:
"We are extremely delighted to commence our journey in the Telugu film industry, which is the second biggest industry in India after Hindi films, with our own production starring Superstar Mahesh Babu and Director Koratala Siva, a popular writer and director in Telugu with many super hit films to his credit. We believe in the power of great storytelling and have proven the same in the South with our Malayalam and Tamil slate. Now we venture into Telugu cinema with a story which will appeal to all types of audiences and are gearing up to produce the film on the large scale it deserves," said G. Dhananjayan, Chief, South Business – Studios, Disney UTV.
Mahesh Babu said, "I am happy to be a part of UTV's first Telugu Production, which is directed by Koratala Siva and presented in association with Indira Productions. Looking forward to the experience!"
"It is a privilege to write and direct my third film with Disney UTV, that too with the Superstar Mahesh Babu and I am looking forward to commence the pre-production immediately after my current assignment," said writer-director Koratala Siva.