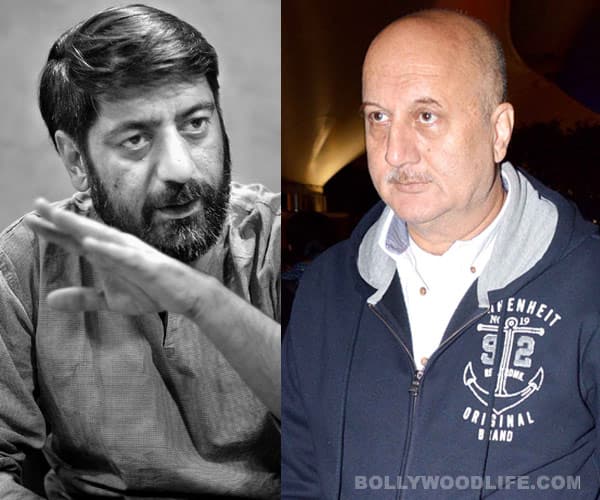 Sharma's Final Solution, a documentary is in the new again, courtesy his war of words on the social networking platforms with Kher
With the ongoing Lok Sabha elections, there's a difference of opinion created in Bollywood. With so many B-townies contesting the elections, there's a louder buzz in B-town about any election related controversies. Latest we heard of was, Anupam Kher and Rakesh Sharma's word war on Twitter and Facebook revolving around Sharma's documentary film Final Solution. So, what happened? Well, keep reading.
Rakesh Sharma's Final Solution is a documentary film about the 2002 riots that shook Gujarat. So Kher was accused on an interview with a news channel that he as the chairman of CBFC back in 2002 had not cleared Sharma's film and had stalled its release till the UPA government came into power. However, Anupam Kher had immediately cleared the air of this accusation by saying that he had passed the film without any cuts, despite the film's content which could cause communal disharmony. Reportedly, Kher had said that Rakesh Sharma sent him a message thanking him for his 'magnanimity' and wanted to touch his feet.
However, this was Kher's side. Rakesh has an altogether different story to tell. Sharma said, "Anupam Kher either has verbal diarrhoea or the Alzheimer's or both. Such a remark also belies his feudal mindset, where he perhaps saw himself as the King of the Censor Board and expected his subjects to fall at his feet. And for what – for him to finally perform his constitutionally mandated functions, ie, just doing his job, without bias, fear or favour?"
Rakesh took to Twitter to voice out further. He tweeted, "First he decided to 'ban' the film. Then Kher 'cleared' it. Special committee headed by Shyam Benegal were mere puppets obeying his diktats?" He added another tweet, "I believed then as I do now: the Benegal-headed panel cleared my film. Anupam personally didn't, he was a panel member. And touching feet??!"
Rakesh Sharma also posted a long press release on Facebook.
Anupam Kher vs Final Solution, the film about Gujarat 2002: Read my rebuttal of his TV comments in last 2 days. https://t.co/MLxnBQgaVe

— Rakesh Sharma (@rakeshfilm) April 18, 2014
Truth ALWAYS triumphs. Here Rakesh Sharma admits that I passed his film without a single cut. At 20th minute.:) https://t.co/fwxQfl2wav

— Anupam Kher (@AnupamPkher) April 20, 2014
After which, he tweeted, "@AnupamPkher Respond to my facebook post. DNA report erroneous, I tweeted and emailed last night itself upon seeing it. The facts are on FB!"
Well, well! Kher might have stayed mum for a while. But only to comeback loud and clear. The actor tweeted, "Correction: Rakesh Sharma saying I passed his film without a single cut is at 16.30th min. Not at 20th.:)"
Well now, it's difficult to decide who is telling the truth. And when it's about politics, everyone has some dirty game in mind. So we leave it to you to decide if Rakesh Sharma is giving us the truth, or is Anupam Kher triumphant in this war of words.