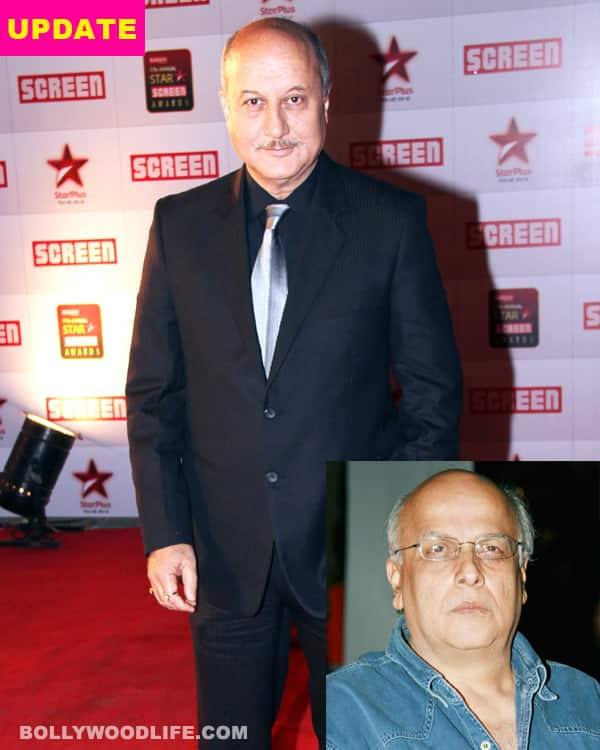 After the news about Anupam Uncle gearing up to act in Anil Kapoor's 24, we take a peek at the actor's microblogging site to find out what's up
On Anupam Kher's 58th birthday, his mentor Mahesh Bhatt tweeted, "If a student can not make it without the master it is the master who fails! Thank u for winning & making me win! Happy birthday Anupam Kher!"
We also spotted Anupam ji's friend Pritish Nandy's tweet that said: "For one of my bestest friends over the years..Have another great year! You deserve it."
Anupam Kher was born on March 7, 1955 in Shimla, India and was raised in a Kashmiri Pandit family. He made his acting debut with the movie Aagman in 1982 and since then he has gone on to do nearly 450 films and 100 plays. Recently, he was seen in the role of PK Sharma in Special 26 and as Dr Cliff Patel in Silver Linings Playbook. We loved him in those!
And on his 58th birthday, another news makes us whoop with joy. Here's what – Anupam Kher will play a RAW (Research and Analysis Wing) officer in Anil Kapoor's 24. Good news, isn't it? One glance at his career and we are sure Anupam will effortlessly and convincing play the RAW officer.
Talking about him, Anil Kapoor had said in an interview, "We have been close friends for over 20 years and now we are neighbours too. But I didn't want to take advantage of our friendship. So, I was hesitating to ask Anupam to be a part of the show." And after deliberating for a while, Kapoor finally approached his dear friend who said, "'Of course, I'll do it. Even if I have to just stand in a scene, I would do it for your sake." Awww, sweet, isn't it?
Moreover, Kher added that the medium doesn't really matter to him, it's the work that's important. Anupam ji also thinks that television is much more challenging as the viewer has the freedom to switch to another channel, if bored. And looks like he has accepted the challenge gracefully.
So today, we wish Anupam Kher a happy and eventful birthday and also wish him luck for his upcoming small screen venture. Cheers!