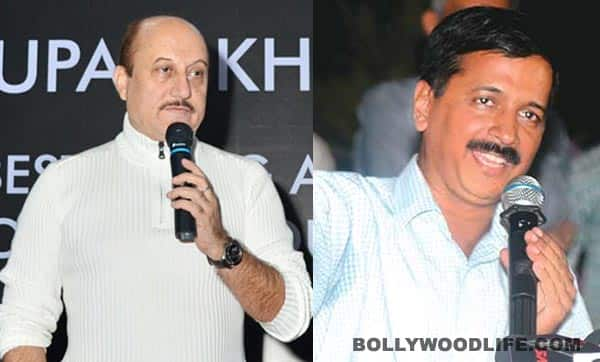 The veteran actor believes that Kejriwal should stop opposing others, and instead prove himself
Anupam Kher is known for speaking his mind without worrying much about the possible consequences of his opinions which he often expresses on a public platform. The 57-year-old accomplished actor has now slammed activist Aam Aadmi Party's national convenor Arvind Kejriwal for criticising others. "The time is over now for Kejriwal to oppose others, he should perform to prove himself," said Kher during a function at Ujjain Press Club.
Clearly, Kher, who had joined the Anna Hazare campaign in New Delhi in the past, is not particularly impressed by the modus operandi of Kejriwal's recent expose. But he agreed that corruption is the biggest menace thwarting the country's progress. He also doesn't agree with Baba Ramdev's opinion that Ajmal Kasab should have been hanged in public. The actor feels that the Kasab episode was an issue pertaining to law and order, and the authorities have taken an appropriate step.
Recently, the actor offered Rs 2 lakh to a local drama artist. Kher's generous act, unfortunately, sparked a controversy. "I was shocked when someone stated that the donation might attract queries under the RTI", clarified Kher, adding that he now entrusted the Ujjain Press Club to decide over the distribution.
On asking whether he would like to work in the public domain, Kher maintained that he has no plans to join politics.