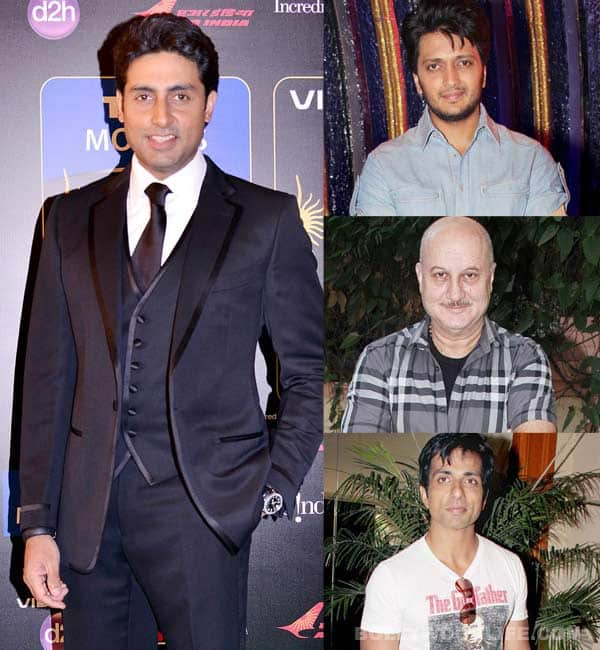 Junior Bachchan turned 38 today!
While Abhishek Bachchan might be busy working on his birthday, his beloved wife Aishwarya Rai Bachchan is all set to throw a surprise party for Junior B. But how could we forget the most "in" thing these days – Twitter. Here's what B-town celebrities like Anupam Kher, Anubhav Sinha, Riteish Deshmikh, Genelia Deshmukh, Neha Dhupia amongst many others, had to say to the birthday boy.
What is Aishwarya Rai Bachchan's special birthday gift for Abhishek Bachchan?
Anupam Kher
Happy Birthday Maharaz zi @juniorbachchan. Wishing you a Long, Happy, Successful & peaceful life.:
Anubhav Sinha
AB, Happy Birthday ki best wishes ki sabhi shubhkamnayen. Keep Rocking!!! @juniorbachchan
Riteish Deshmukh
Happy birthday my brother @juniorbachchan – have a super duper one
Genelia Deshmukh
Happy birthday @juniorbachchan . May u have the best day n a super awesome year ahead
Why does Abhishek Bachchan like working on his birthday?
Neha Dhupia
Happy happy birthday @juniorbachchan ! Big love !!!!
Vishal Dadlani
Happy Birthday @juniorbachchan ! Big love, always!!
Dabboo Ratnani
Happiest B'day Bro @juniorbachchan . Love You Lots
Sonu Sood
Happy birthday my bro @juniorbachchan ..Stay blessed n be the way u r. A ROCKSTAR. Waiting to have milk cake today on the sets. Love u alwz
Jimmy Shergill
@juniorbachchan wishing you a very happy birthday..have a great one brother .. Lots of love
Rana Daggubati
Happpyyy birthday @juniorbachchan have a superb year.
Taran Adarsh
Many happy returns of the day to @juniorbachchan . Wishing you infinite happiness, peace and prosperity. Have a Blockbuster year!
Shweta Pandit
Happy Birthday @juniorbachchan !!! Love and happiness
Punit Malhotra
Wishing one of the nicest actors… And the nicest person, a very happy birthday!!! Have a super yr. Love @juniorbachchan
Amitabh Bachchan or Rajinikanth – who will emerge a winner at the box-office?
Raj Kundra
Happy birthday @juniorbachchan all work and no play how is that possible? See you on Sunday captain 🙂
Neil Nitin Mukesh
Happy Birthday My Dearest Elder Brother.1of the finest People I have ever known.God Bless you with all the Happiness.ALWAYS.@juniorbachchan
Rohan Sippy
@juniorbachchan have a great birthday braz! Hope it is the Happy-est New Year yet
Ehsaan Noorani
Happy Birthday bro @juniorbachchan !!!
Sanjay Gadhvi
Happy Birthday @juniorbachchan! Wish you all the joy & success! Have a good one my friend! Love, Respect & Gratitude
Nikhil Advani
Hey!!! Happy birthday @juniorbachchan. Here's to a smashing year.
Shanoo Sharma
happy birthday to the one and only hotty! @juniorbachchan i adore you!
Tara Sharma Saluja
Happy Birthday ABJ Bhaijaji! @juniorbachchan Have a super yr:) Lotsa Lov
Tarun Mansukhani
Wishing my 'older' brother, lecturer, bully n true friend (evidence attached!) @juniorbachchan a very happy b'day!!!