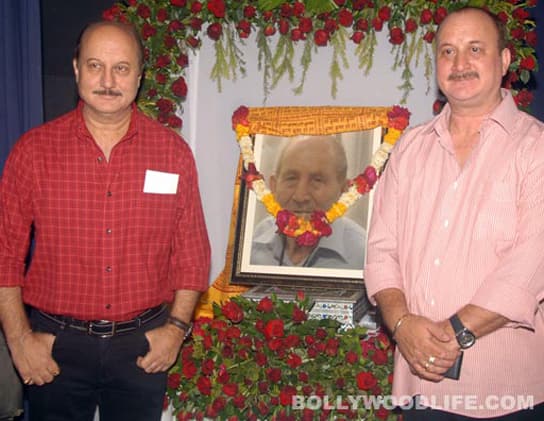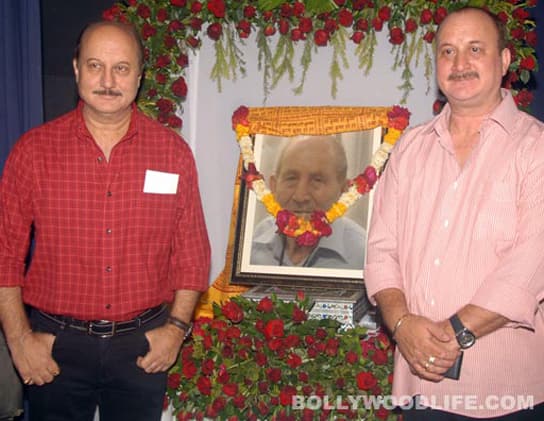 Memorial services are usually sombre occasions, but the actor ensured a rocking adieu for, in his own words, 'the best dad in the world'
It seldom happens that someone's death is celebrated in such a unique and pleasant way. Actor Anupam Kher decided to hold one such memorial service for his father who passed away recently. Unlike the usual functions that follow the demise of near and dear ones, Kher chose to make it a happy occasion sans the tears and the white kurtas. He posted a message on Twitter, "Today is my father's Prayer ceremony. I know he wants us to celebrate life. So there will be a Rock band playing in His memory at d ceremony.:)" Not everyone thought that he was serious about what he was saying.
But it turned out that he did exactly what he had posted on the micro-blogging site. Expressing his appreciation about Kher's unusual farewell, filmmaker Mahesh Bhatt said, "Anupam Kher pays 'a life affirming' goodbye to his father through an unusual memorial service." Other guests also echoed similar sentiments. Many from B-town showed up at their event wearing colourful clothes and we heard that there was laughter and banter all around, with a rock band playing in the background. As a mark of gratitude, Kher tweeted, "It is NEVER a Farewell to The Best Dad In D World. Thank You Friends 4 making it d Most Celebrated day of our Lives.:)" We at Bollywoodlife hope and pray that the noble soul rests in peace, especially after receiving such a rocking farewell!