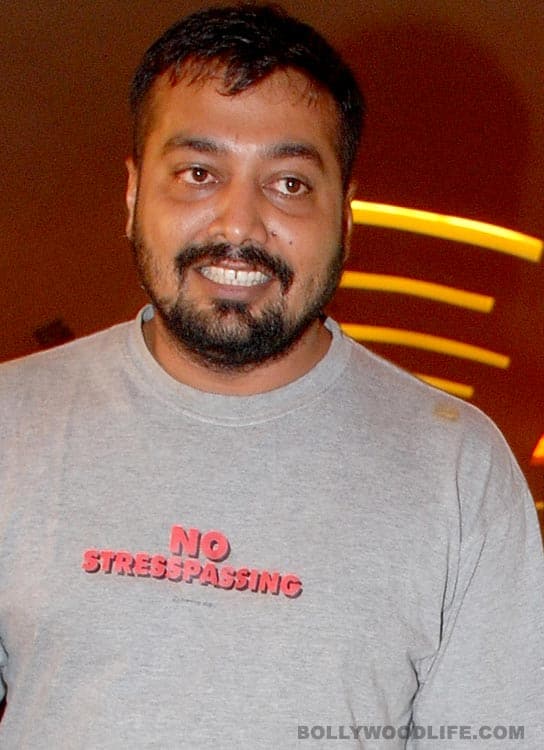 The Bombay Talkies director talks about being a crazy Big B fan, preserving movies and the Cannes International Film Festival
Anurag Kashyap has come a long way from struggling and sleeping on street corners to being included in the league of directors who have contributed hugely to the evolution of Indian cinema. Today the filmmaker is so busy with work that he barely has time for himself. With ten films in the pipeline, and operating out of four offices, he is probably the busiest producer in Bollywood today. On the eve of his film's release, we caught up with the filmmaker and spoke about a number of topics including the movie he is showing at Cannes, his fanboy stories and his alleged link-ups…
What do 100 years of Indian cinema mean to you personally?
For me, any kind of thing that has stood for a 100 years tells me of the health of that thing. So with cinema and it completing a hundred years in India just says that it is very healthy. Also, perceptions have changed. Earlier it used to be that cinema was the haunt of wastrels and outsiders. Working in the movies was looked down upon. It is not the case any more. Working in movies is a respectable profession now. There are people who can proudly say that they are a part of cinema now. All this just confirms my beliefs that cinema is an art form that has stood the test of time, and there's just nothing like it! Nothing comes close.
Are you keen on preserving movies? Would you watch a Raja Harishchandra or a Hunterwali on DVD and enjoy it?
Of course I do! I have watched Raja Harishchandra on DVD. It is literally our heritage. India was one of the first countries to be making movies. So, yes. Film preservation has to come around. In fact, if you see my house, it's like an archive in itself! You will find the most obscure movies there.
Tell us about the trouble you got into while filming outside Big B's home…
Oh, there was no trouble at all! It was shoddy reporting by some newspaper. We had absolutely no trouble, and it was completely smooth sailing!
Have you ever been a mad fan of someone – like the man you have shown in the film?
I have – of Amitabh Bachchan, who else? I remember when I was in the hostel, we got 200 paans made when Don released. And we all went to the theatre to watch the film and ate those paans. So I was completely taken by him. I remember copying his Shahenshah hairstyle and wearing that silver armour across my hand and roaming around the house. I was a complete fan. I still am! In fact, I used to stand outside Bachchan's bungalow when I came to Bombay in the '90s.
When did you first meet Amitabh Bachchan? And what was your encounter with him like?
That was right after Satya, when there were no mobile phones. I found out that Amitabh Bachchan really liked the film's script and was looking for me. I remember dropping everything I was doing to meet him. I even wrote a film for him, but unfortunately we couldn't work on it.
This is another good year for you, with two of your movies going to Cannes – Bombay Talkies and Monsoon Shootout. How does it feel?
Great, of course! I mean, cinema has literally given me everything. In fact, I remember, the time I made my passport was when one of my films was being shown in the US. I didn't have a passport before that! If you see my visa date, it is exactly a week ago. So yes, it feels amazing, but there is a long way yet to go. I mean, if you see the films playing in competition, there are giants of the film world out there. I don't even come close. So to make it is indeed a big deal. Also, you have to understand, so many avenues open up after you go there. In fact, the collections of Gangs of Wasseypur alone in Germany came up to 400,00 Euros! That is big money. Plus, new avenues open up. For example, Monsoon Shootout has moneys from various international production houses in France. So it always helps to travel to those festivals.
Are you taking Paradesi to Cannes as well?
No. Bala doesn't want it, I guess. See, it doesn't matter if you go to the festivals or not. People like Ram Gopal Varma could easily have taken Company to festivals. Those were great films. But they chose not to. Do you think if Guru Dutt had taken Pyaasa to festivals, it wouldn't have been appreciated? But maybe he didn't know, or he didn't care. So festivals matter, but aren't the be all and end all. They aren't the only litmus test for a film.
Have you seen the Satya 2 trailer?
I haven't and I won't even go on Google and type it!
Recently there were reports of you having a fling with Huma Qureshi…
That was an utter crap piece of reporting. Huma, Kalki and me are good friends and there is nothing more I wish to say about it.
How is Bombay Velvet shaping up?
It's going great (points out to the pile of director's notes lying on his desk) – I am just waiting to start shooting the film. I mean, the kind of fun it was researching the film, I can't even imagine the blast we're going to have shooting it! It's something very special for me at the moment.