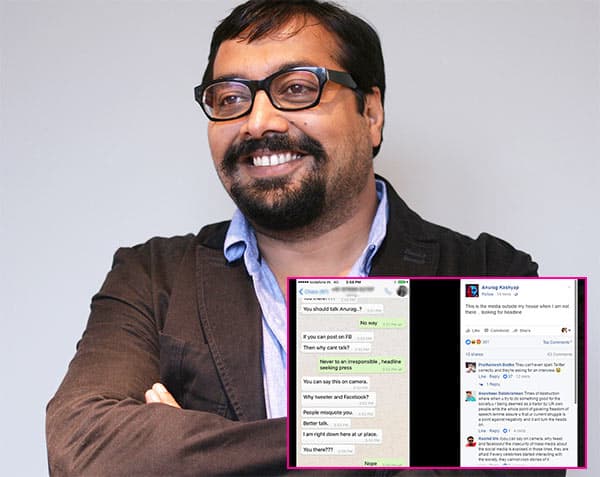 Anurag Kashyap is finding himself in hot water all over again. His controversial Twitter rants in support of Karan johar over the ban on Ae Dil Hai Mushkil (which is not happening by the way) had many tongues wagging, and quite a lot trolling. Okay, let me give you a gist – Anurag Kashyap had tweeted that if Karan Johar had done wrong by making a film with a Pakistani actor in the lead last year, then even Prime Minister Narendra Modi should also apologise for meeting the Pak PM Nawaz Sharif last year. Naturally, in the era of heightened tensions, his rant didn't go amiss and he was getting trolled by PM supporters on social networking sites. He took on a few on his own as well, before putting on a few more posts on Twitter explaining his stand.
With all the brouhaha over his Twitter war, it's natural for the Media to be in touch with him to ask what exactly was his intention to send out those tweets, whether he really wants an apology from the PM and stuff. Basically, this was an opportunity for him the clear the misconceptions about his statements. However for some reason, Anurag Kashyap chose to leak his WhatsApp conversation with a reporter on his Facebook page with the intention of trolling the said reporter, with a caption 'There is the media outside my house  when I am not there ….looking for headline'. He even didn't care to blur the reporter's number from the screenshot, which we have done by the way, and the conversation was not anything much to be leaked on such a public platform.
Here's the post, which he later deleted…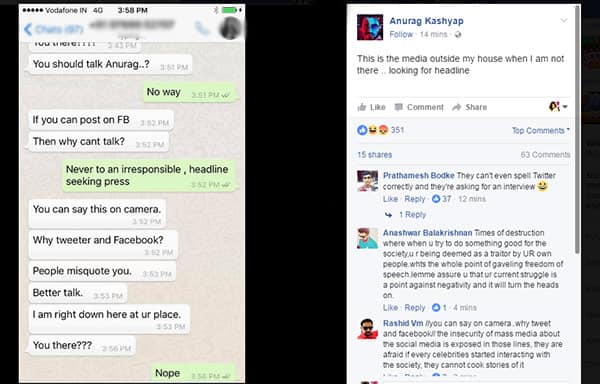 Interestingly, Anurag has tweeted last night that he didn't want the media to call him about his Twitter rant, because they are all what he has to say and they were no drunken tweets…
And media should stop trying to call me because you are wasting your time,because this all that I have to say and they were not drunk tweets

— Anurag Kashyap (@anuragkashyap72) October 16, 2016
Before he posted that WhatsApp conversation, he had also posted another one where he explains the reason why he tweeted rthose statements. which I must say, made a lot of sense.
If you want to check out his Twitter rant, here it is: Also read: After supporting Karan Johar's Ae Dil Hai Mushkil, Anurag Kashyap LASHES out at PM Narendra Modi for his Pakistan trip