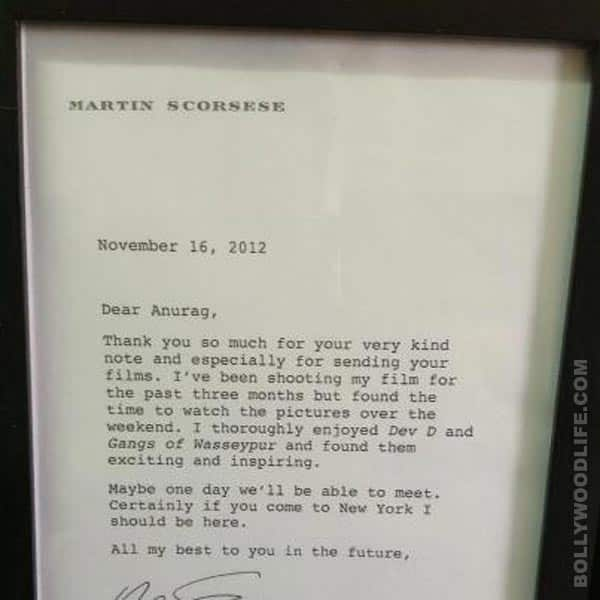 The Gangs of Wasseypur director is all ecstatic on receiving a letter from his God of Cinema – the Oscar winning filmmaker Martin Scorsese
Anurag Kashyap is not someone who likes to flaunt. And that says something about a man who has been one of the pioneers of modern day movie making. Anurag has always been modest, almost uncomfortable with all the titles that are heaped upon him.
So, when the 'poster boy' of independent cinema in India starts showing off, there is really something to it!
Anurag, who has always been an ardent Scorsese fan, and has looked at the filmmaker for inspiration, tweeted for the first time on December 8 about getting a letter from his 'God' who liked two of his films. His tweet said, "Got a letter from "GOD" today.. He saw GoW and Dev.D .. My life is kickass…"
And today, the director who is busy shooting his upcoming film Ugly, posted a scanned copy of the typewritten letter on Facebook. He said, "Letter from Martin Scorsese..my greatest award yet."
And the contents of the letter go:
"Dear Anurag,
Thank you so much for your very kind note and especially for sending your films. I've been shooting my film for the past three months but found the time to watch the pictures over the weekend. I thoroughly enjoyed Dev D and Gangs of Wasseypur and found them exciting and inspiring.
Maybe one day we'll be able to meet. Certainly if you come to New York I should be here.
All the best to you in the future."
Well, life sure has come a full circle for Anurag who at a point in time used to watch Martin Scorsese's film Taxi Driver on a broken VCR player in the '90s and was blown away by the film, when he was struggling to become a writer-director himself.
We agree Anurag, it certainly is your best award yet! Though, a more tangible award like the Oscar would work as well! What say, BollywoodLifers?