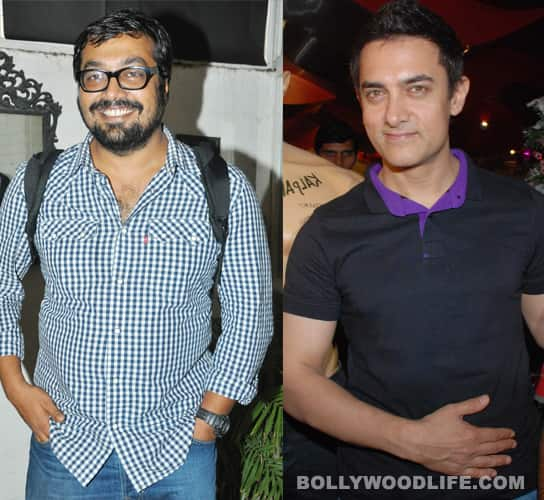 The That Girl in Yellow Boots director is so impressed with Aamir's marketing strategies that he wants to hire Mr Perfectionist
Anurag Kashyap is one of the most intelligent and daring filmmakers in Bollywood today. Kashyap has won the critics over with films like Black Friday, Dev D and That Girl In Yellow Boots. But he hasn't really been able to turn them into commercial successes. When it comes to selling his movies, Anurag feels that he needs some guidance from none other than Aamir Khan. The maverick director is mighty impressed with Aamir's out-of-the- box strategies to sell his projects. He believes that no one markets a film as well as Aamir does. Anurag was present at the ongoing FICCI Frames event in Mumbai where he expressed his desire to seek support from Aamir . "We haven't seen anyone market a film like Aamir Khan does. I wish I could hire Aamir Khan to market my films. Even if he gives guidance or any kind of support…it is enough for me," said Anurag.
So, are we going to see Aamir-Anurag working together in the near future? "This alone cannot be my decision and choice, if he decides then fine," said Anurag. We agree with Kashyap. Aamir certainly knows how to create a buzz around his films. Remember how he had disappeared to promote 3 idiots or turned himself into a barber to promote Ghajini? He managed to garner a great amount of publicity for even his smaller productions like Delly Belly, Dhobi Ghat and Peepli Live. But besides Aamir, we can suggest one more name to Anurag and she's someone who's been creating waves with her unique PR drives for her films. From dressing up in a village belle avatar for Ishqiya to sporting a fake baby bump and boarding a bus in search of her missing husband for Kahaani, Vidya Balan is is getting close to her mentor Aamir. In case Aamir is too busy to help out Anurag, the director could definitely opt for Vidya!