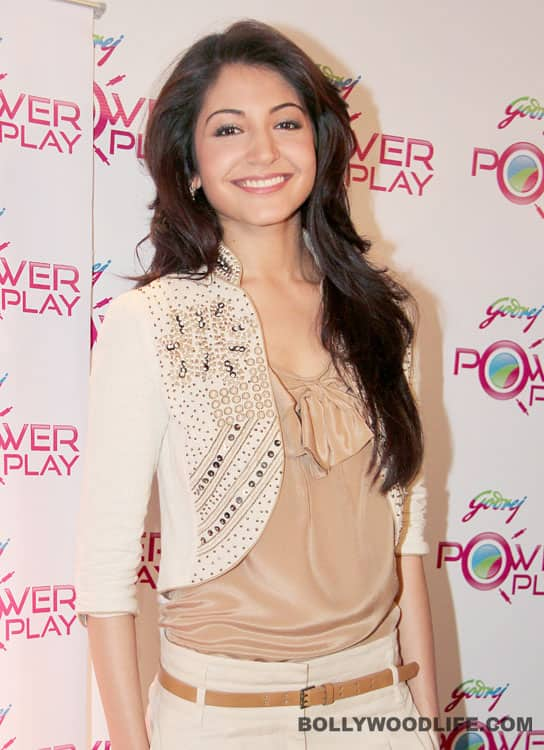 The Jab Tak Hai Jaan babe talks about her latest film Matru Ki Bijlee Ka Mandola directed by Vishal Bhardwaj, co-starring Imran Khan and Pankaj Kapur and much more….
Dressed in casual a T-shirt and jeans, Anushka Sharma is geared up to face the media in a plush conference room at a posh hotel. She displays remarkable sangfroid despite being aware that she will be bombarded with a volley of questions. She jokes about how it has always been a dream for her to sit and talk in a formal way in a corporate ambiance. But formality is a quickly passing phase; it doesn't take her long to slip into being completely herself as she wraps a shawl around her shoulders, a shield against the blast of cold air from the air conditioners. As she gets into a talking spree she reveals that, in spite of the many cool endorsements on her resume, she will always stay away from promoting fairness creams or any product that's 'regressive'. She emphasises the fact that Bijlee's character in the film is not a stereotypical brat, but Vishal Bhardwaj's vision of what a 'brat' should be. Ms A also gets nostalgic as she recollects how there was absolutely no scope of throwing tantrums in her house as a child, let alone being a brat – which makes her so diametrically different from Bijlee, her character in the film…
Is Bijlee an extension of Akira (Jab Tak Hai Jaan)?
Bijlee is a spoilt brat. Her father is really rich. She stands out in this town in Mandola district. She is a bit of an attention seeker. She won't really give a second thought to anything she wants to do, she just does it. If she wants to go and jump the talaab, she does that without thinking twice. She likes to shock people and is very unpredictable and carefree.
Do you relate to any of these qualities?
A girl who's bought up in an Army background couldn't possibly be a spoiled brat. I am unpredictable, but I don't show that in front of everybody. Every actor is an attention seeker – but that's an occupational hazard, isn't it? (laughs).
What is the 'Meena Kumari' complex'?
Meena Kumari is the tragedy queen. And Bijlee is a very complex character. She seems happy and vivacious, but she's not. There are a lot of layers to her. She likes drama in her life. That's the reason why Matru probably thinks that Bijlee has a Meena Kumari complex.
Is this one of the most difficult characters you have played?
So far the characters I have played have been very strong girls. We have this habit of oversimplifying things and stereotyping. It doesn't take us much time to label someone as 'bubbly' or 'romantic' without knowing much about that person. And what you see is not always how things are. That's exactly what this film is. There's more to me than being vivacious and strong. So I think this is the most complex character I've played so far. It's been very easy to understand the characters I have played in the past, but this one has been quite difficult to interpret.
Any memorable shot…?
I love the climax of the film. I can't reveal much, but the ending was the most fun to shoot.
Tell us something about your quirky look in the film….
The way Bijlee dresses is a cry for attention. From black kohl rimmed eyes to dark hued nail polish, she loves to be the centre of attention by wearing punkish stuff. If her father asks her not to get a tattoo, she will get one done on the very same day. Also, there are some girls who like to travel and collect style items and mix and match whatever they have to create something funky. Bijlee is like that. The blue ghagra I am wearing in the film is actually from a shop in Haryana – Bijlee is one of those who teams up such ethnic statements with boots and stockings.
Imran had to attend workshops for the film…what about you?
I did not have to take workshops. I just could not relate to the character of Bijlee in the film. In fact, I could relate to Shruti Kakkar in Band Baaja Baaraat, 'coz she was extremely ambitious. Bijlee is very vain and vague. Sometimes I would actually question why my character was behaving this way. Vishal Bhardwaj's films are complex. They are not like other movies. He concentrates on the grey areas. Somewhere for me to understand that world was difficult, to understand a film that is not just about dialogues. I had to work on my body language and also the way Bijlee ran, in an odd fashion. So I had to mentally train myself to play such a role.
What was your first reaction when Vishal narrated the script to you? Did it take time for him to convince you?
No, it didn't take time for me to get convinced. The script was hilarious. I was laughing my heart out. I remember walking back home and enacting those scenes in front of my brother. It's one of those films in which people crack a joke with a straight face, it doesn't have stupid gimmicks.
So what have you learnt on the job?
I saw the world in a certain way and it was either black or white. But after doing this film, I think somewhere I started accepting things. I became less judgmental as a person. I started to sympathise with people. For example, when I saw Maqbool, I was very young, I didn't understand a thing. But when I saw Maqbool again recently, I realised that the characters are so wrong in their place, but in the end you still feel sorry for them. Accepting people's flaws is something I've learnt from this film.
What was it like working with Pankaj Kapur?
I really have to talk about the way he focuses on his work. We get distracted even with the slightest of noise, but he remains so undisturbed. I was intimidated by him initially, 'coz he doesn't talk much, and I would be on tenterhooks every time I tried to make up my mind about talking to him. But watching him act is a pleasure.
You have done most of your films with Yash Raj Films. What was it like working with someone like Vishal, who has a different thought process altogether?
Vishal has seen a lot in life. We haven't seen even half of it!. And that's what you see in his films. In Band Baaja Baaraat and Jab Tak Hai Jaan, the actors are highly expressive through their dialogues. But in a VB film, just you turning your face and giving an intense expression might be the most important point in the movie. With VB, doing less is more, is his mantra. Also VB is the most sarcastic person I know, which makes working with him all the more fun.