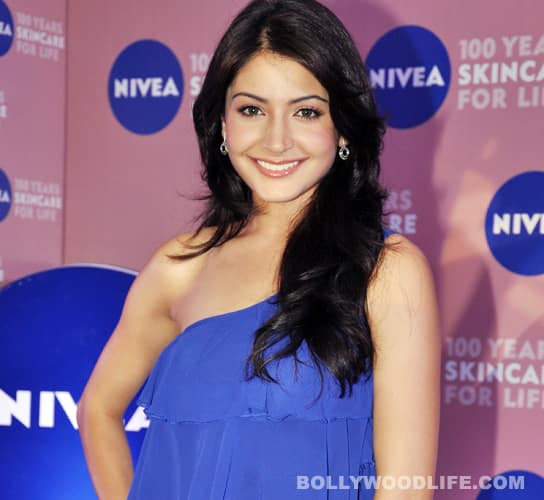 She started her career as the demure, quiet and soft-spoken Taniji in Rab Ne Bana Di Jodi. Five films later, Anushka Sharma is all ready and eager to take on the world. She's smart, hot, independent and extremely intelligent, states a smitten Ranveer Singh. And we completely agree
Last year Anushka Sharma stirred up a storm with Band Baaja Baaraat and Badmaash Company and now she is back, hopefully to deliver yet another hit with Ladies vs Ricky Bahl.
Who is Ishika Desai?
In Ladies vs Ricky Bahl, I am the 'VS' in the film. Ishika plays a street smart, intelligent, aggressive and smart single girl from Mumbai. When you live alone in a city like Mumbai, you learn to create your own defence mechanisms. She is a salesgirl who is capable of selling anything to anyone, even if they do not want it. She cons people in innocent ways.
Aren't Ladies… and Badmaash Company very similar?
Badmaash Company and this film have only the genre in common. Badmaash Company was the journey of four friends and con was not the central point. But Ladies vs Ricky Bahl is all about a man conning over 50 women. Ricky is not a heartbreaker but a charmer who will exploit you for money. But among all the women he manages to con, three get offended and decide to take revenge. They bring in Ishika, who is the perfect match for him.
What was it like getting back with Ranveer Singh?
It is great to come back in a film with Ranveer. The comfort level is much better this time. During Band Baaja Baaraat we used to fight a lot. Our working styles were very different. We couldn't understand each other then. But now we have more respect for each other and know when to give each other space.
Has Ranveer grown up as an actor?
I believe the film was a challenge for him too. He is playing four unique characters that have different body language, look and dialogue. Ranveer has definitely come a long way from his first film. Ladies vs Ricky Bahl has more scope for him as an actor.
Are you insecure with three other women playing prominent roles in the film?
No, I am not insecure. For me, my script and the role I am set to do are more important. If my script is kickass, then I don't care about anybody else in the film. As for the three girls, I think they have been cast perfectly. Dipannita Sharma is playing a character that is very much like her in real life. Parineeti Chopra portrays the character of a very loud girl from Delhi and that's exactly how she is in real life too. Saira hails from a small town in Lucknow; Aditi in real life is very similar to her onscreen character. Frankly, without them there is nothing in the film. The story comes together and falls into place because of these three women. Moreover, I have a lot of confidence in myself as an actor, so I don't think like that. Even now, I am doing a film with Katrina Kaif and Shahrukh Khan, but I have no issues with it because my role is great. Insecurities don't happen if you are practical.
It's YRF again; does it feel like coming home?
I started my career with YRF. Had they not chosen me for Rab Ne Bana Di Jodi, I would not be an actor today. So there will always be that gratitude to them. Plus, they work with a lot of ethics, which is something I like and admire. It's really important for me to work with people I respect and who respect me.
What is Aditya Chopra like to work with?
After my parents, if there is anyone I respect, it is Aditya Chopra. I like him because he respects everyone, big or small. His principles are in place. As a producer or director he will always make sure that the actor is convinced of his/her character. I am really lucky that he has always offered me great scripts. When he told me about Ladies vs Ricky Bahl, I was totally excited to work with Maneesh Sharma after Band Baaja Baaraat. I knew the role offered to me was great. I mean, a woman who is a match to a conman – you can only imagine how smart she is! It was thrilling and a very strong character to play.
Maneesh Sharma, the director…
Maneesh is like a bull. He is a perfectionist, which is great because you can see how passionate he is about his work. He knows how to extract perfection from an actor. Maneesh has elevated his work with every film. He is cool and intense at the same time, which makes it great fun to work with him.
How did it feel working with the same crew again?
It was like a challenge. True, it's great to see the same old faces on the sets, but it was a process to unlearn and then learn again. The story was different, but the team was the same. It was a challenge to create that difference.
Your favouirite song in the film…
Thug le and Jazba! The latter is my first solo song. In addition to that it reminded me of everything about Mumbai; the city has given me so much that it's difficult to connect with any other place the way I've done with Mumbai. I am originally from Bangalore. The song reminded me of my first shot for Rab Ne Bana Di Jodi, which was a train sequence.
An incident you'll never forget during the shoot…
I was to jet ski in Goa for a scene. It was high tide and I had Ranveer sitting behind me. I don't know how, but the ski toppled over and we fell in the water. I have been swimming since I was four years old, but when I fell, all I did was flap my hands. An assistant director came on another jet ski and pulled me up immediately. And that's when it struck me – I know how to swim, so what was I flapping my hands for? I had forgotten how to swim in the paranoia…
The media calls you anorexic…
I am not anorexic. I don't think people understand what anorexia is. It's a mental condition where a person is so depressed that he/she stops eating or throws up everything they eat. I am very comfortable in my skin; I have a great body, beautiful skin, amazing hair. I love myself and hence cannot succumb to things like this.
Are expectations high from Ladies vs Ricky Bahl?
I never had any expectations when I did Band Baaja Baaraat, or any film I've worked in. My work is over when the director announces 'picture wrap'. My contribution to the film is only possible when I am acting. That's the only time I can be productive with my skills; once the film is made and the reel is done, I have no role.
You look stunning in the film…
Akki Narula styled me in Rab Ne Bana Di Jodi and in Ladies vs Ricky Bahl. We often joke about it, saying 'See how far Taniji has come!'. I believe styling is very important for a film. The clothes, makeup and hair are vital in a film. Not because I have to look good and fashionable, but because it adds to the character I play. In fact, it helps me get into character more easily.
Director or script?
Neither can work without the other, at least for me. Inspiration always comes from a director and that's why I will always want to work with a great director who offers me a good script.