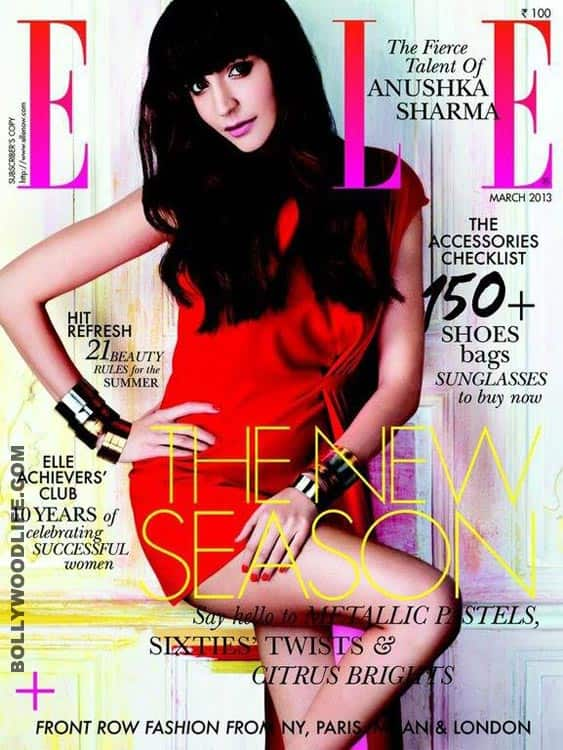 skip advertisement
We spotted the three divine beauties of B-town on the cover of our regular glossies. Tell us, who sizzles the most with her undeniable star power
The fierce Anushka Sharma almost caught us by our eyeballs with her fabulous cover appearance for the leading fashion glossy Elle. The Matru Ki Bijlee Ka Mandola star is a total head-turner and this time around she made our heads go spin with her chic and futuristic look that is as bold as it is edgy. Anushka's beautifully crafted red outfit with a fine cut , her fuchsia pink pout coupled with those chunky metallic bangles add to the drama this look has created.
And if Anushka is dramatic and edgy with her cover shot, Bollywood's ultimate Heroine Kareena Kapoor is classy and stylish on the cover of Brand Fashion. The Begum of Pataudi is elegance personified with her neat hairdo and make-up. Though we liked that black and white scarf wrapped around Kareena's neck, we wish Bebo had added a hint of colour and vibrancy to the look by more accessories. Neat, clean but bland is how we define this look.
The Cocktail gal Deepika Padukone too was spotted in her tantalising  avatar that  intoxicate her fans to the hilt. The babe graced the cover of L'Officel magazine in a gorgeous pristine white Dior outfit that presented a lot of skin show. Deepika's gorgeous brown curls tumbling down her shoulder and the turquoise eye make up- that goes well with the font of the magazine -added a nice contrast to the look and it also helped break the monotony of monochrome. Her slender bod and long limbs make certainly make dippy a hot sensation to look up to!
And then there was the quintessential dhak dhak girl of B-town-Madhuri Dixit Nene– who looked as splendid as only she can on the cover of Filmfare. And as she always does, Madhuri just hypnotised us with her million dollar smile yet again with this cover shot. The mother of two looked classy and incredibly charming in the peach gown. The layered outfit with a belt, Madhuri's dark brown hair and the minimal accessories do full justice to the cover. Perhaps a lesser filmi pose would have made that impossible smile look more natural though, we thinks!
Now you take a look at our cover girls of the season and choose your pick!