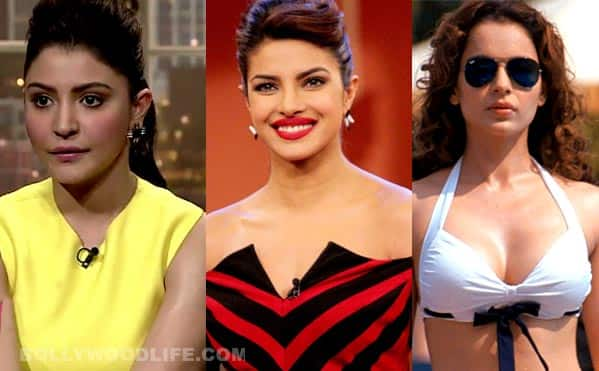 skip advertisement
Recently the Bombay Velvet babe went on to confess on her microblogging page that she hadn't gone under the knife, instead had used an enhancer
Anushka Sharma's recent appearance on Koffee with Karan 4 (KWK 4) became the talk of the town for her different looks and alleged affair with cricketer Virat Kohli. The Band Bajaa Baraat actor's 'lips' in particular became the hot topic of discussion. Not only did ex-beau Ranveer Singh have to jump and defend his ex-lover, but Ms Sharma was forced to put out a detailed explanation on her Twitter page. But, Anushka isn't the only heroine to have altered her looks, everyone from Priyanka Chopra, Kangana Ranaut, Shilpa Shetty and Sridevi have come under the media scanner for their new pout, ample bosom, sharp nose etc.  But which of these beauties got it right and which ones didn't, here take a look..
Anushka Sharma's 'new face' didn't really win us over. Her lips became debatable and her lip jokes became a hit, almost as famous as Aloknath's sanskari jokes! Her new look definitely did not get a thumbs up. The actor herself admitted that she could have done better. Strangely, the Ladies Vs Ricky Bahl actor's lips came to the limelight much before her KWK 4 appearance when the Jab Tak Hai Jaan actor came out to promote her film along with co-stars Shahrukh Khan and Katrina Kaif. Looks like Ms Sharma started preparing for her look in Anurag Kashyap's film well in advance. Because we didn't miss Anu's large lips at JTHJ promotions looooong ago.
Priyanka Chopra's exotic looks has made an impact internationally. The new Guess gal however has allegedly changed the way she looks. And we cannot help but notice the obvious difference in the way she looked when she won the Miss World in 2000 and how gorgeous she looks today with that perfect pout. We don't know if it was a special diet or regime that helped or then the 'cut' throat competition. But this Gunday babe definitely is one of the most sexy actors in Bollywood today.
Kangana Ranuat's enhanced bosom caught everyone's attention and her brand new pout made headlines. When this babe donned a bikini in Rascals, everyone was sure something was new in the way this Fashion babe looked. But Kangy and her team vehemently denied all these reports and even suggested that the actor had developed a shellfish allergy during a vacation in Italy. Now we're sure many women wouldn't mind an allergy like that, not  if it made you look the way the Queen heroine looks.
Shruti Haasan is one of the few Indian celebs who has confessed to have gone under the knife. We thought Kamal Haasan and Sarika's this beautiful daughter looked  perfect the way she did. From getting an enhanced lip recently to changing her slightly bent nose, the D-Day actor has altered the way she looks totally. While her face jobs have not gone wrong, we think that Ms Haasan has lost her originality. Why look like a clone and every other actor on block when you can be just you and still be stunning, na BollywoodLifers?
Shilpa Shetty Kundra, this long legged beauty's career didn't span as long as we thought it would. Her affair with Akshay Kumar and her corrective surgery bagged more headlines than her acting prowess. Also Shilpa's sexy patli kamariyaa and thumkaas were more well known that her films. However, this beauty looked prettier after a little help from… errr… you know who!
Sridevi has never really talked about her nose job. The English Vinglish actor has always been media shy and never admitted having undergone any surgery. But one look at Sridevi in her early days as an actor and you will surely notice a change. Are we being nosy? Well, its good to be sometimes, right peeps?