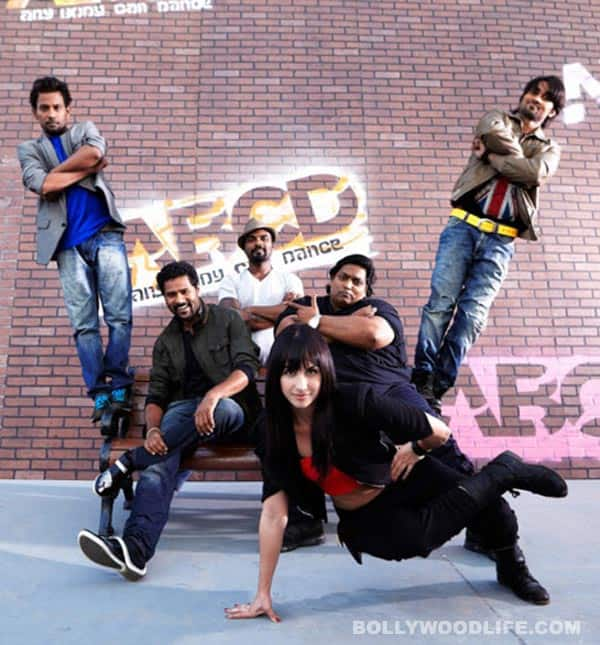 Breathtaking dance moves, great attitude – but what's with the mediocre acting and substandard script?
In Remo D'Souza's Any Body Can Dance, Kay Kay Menon (Jehangir) is an image conscious entrepreneur who owns a la-di-da dance class every rich slicker would want to enroll in. He steps into the shoes of a wannabe attention-seeker amazingly, and keeps himself and his classes in the media eye with great dexterity.From sporting spikes to wearing light-blue lens, he teams disastrous style statements with a goatee – in spite of all this, Menon hands down is the most fabulous performer in the whole film. The way he says 'we dance to impress' to his students, in a very sinister way, makes us loathe him. KK…take a bow!
Prabhudeva (Vishnu), who works for Menon, is highly disappointed with his dishonest ways to keep his students motivated. So despite delivering a shoddy performance at one of the most happening and biggest dance competitions, when the team wins, Prabhudeva – who's the teacher, wonders how they of all the people attained victory. He doubts and questions Menon's unethical strategy, but unfortunately that lands him on the lowest rung of the ladder- from a choreographer to an accounts department manager.
Obviously the Muqabla dude is not going to give up his passion to chill at the desk the whole day and help students laminate their id cards. He leaves in style, shrugs his shoulder, yanks at his jacket with great ferocity – only to return to Chennai – god knows to do what, not make idlis, we hope!
But Prabhu's friend Ganesh Acharya (who overacts a lot) comes to rescue. Epiphany moment arrives when he comes across a group of chawl inhabitants. Eureka moment – Prabhudeva mutters in his mind, whispers under his breath – what if he trains these hooligans – these ill-mannered jhopadpatti guys whose nerves are made of steel and moves are almost tectonic. So preparations begin to gear them up for one of the biggest dance competition- the rich brats VS the unfortunate guys, high street dudes VS low street thugs…
That's how it all begins; Prabhu literally becomes the Prabhu for his students. He teaches them discipline, the importance of standing out in the crowd by doing something hatke, and everything good apart from Hindi – and thank God for that…!
What went wrong: The fact that the script is so clichéd, and honestly we would have overlooked all that if the acting, if not decent, was less filmi. A concept that's done to death in Hollywood is churned out with a desi touch to it. Apologies to Prabhdeva fans- but his thespian skills aren't as good as his booty shaking talents.
Who impresses: Lauren Gottlieb – a firang babe with oodles of talent, great face, good acting, amazing dancer- what else do you want? KK, as we aforementioned, is a powerhouse actor, and you can't take your eyes off his villainous acts. Punit Pathak impresses as a junkie and this guy if honed, he is capable of becoming the next Bollywood stud. The last dance finale act in the film is superb. If it doesn't give you goosebumps, we will change our name (kidding, we won't). Saroj Khan shaking a leg in the end with director Remo D'Souza, Prabhudeva and Ganesh Acharya is a surprise package which we relish- even though for a couple of seconds.
Starring: Salman Yusuf Khan, Dharmesh Yelande, Kay Kay Menon, Prabhudeva, Lauren Gottlieb, Ganesh Acharya, Prince Gupta, Mayuresh Wadkar, Vrushali Chavan.
Rating:
out of 5
Reviewed by Deboshree Ghosh
* Poor
** Average
*** Good
**** Very good
***** Excellent