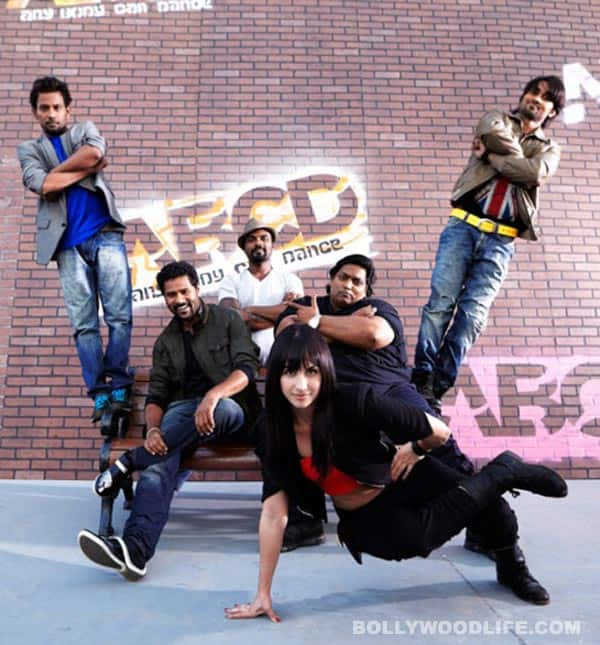 Music: Sachin Jigar
Lyrics: Mayur Puri
Singers: Shankar Mahadevan, Vishal Dadlani, Mohit Chauhan, Priya Panchal, Deane Sequeira, Tanvi Shah, Mika Singh, Udit Narayan, Anushka Manchanda, Raman Mahadevan, Jigar Saraiya, Divya Pushkarna, Sagar Kendurkar, Madhav Krishna, Suraj Jagan, Hard Kaur
Label: Sony
From the first 3D movie on dance you expect a soundtrack packed with some hardcore dance music. So does the soundtrack of Remo Fernandes' ambitious dance flick Any Body Can Dance (ABCD) make you want to get up and dance? And does the music burn up the dance floor? I had to listen to the whole soundtrack just once to make up my mind.
I started with Psycho re, which has a complete South Indian feel – the dhols and pungi and Hindi lyrics sung in a Southern rhythm. Mika and Udit Narayan seem to be having a lot of fun behind the microphone, and you are bound to have fun listening to them render this one.
Bezubaan is an epic slow builder that ends with a stunning climax. Deanne's rap portions followed by traditional dhols take the number to a crescendo, then bringing it back to melancholy mode with Mohit Chauhan and Priya Panchal's soft singing, before taking off to a high-speed and heavy-beat zone. Bezubaan is a total roller coaster ride!
Shambhu sutaya, sung by Vishal Dadlani and Shankar Mahadevan is a heavy rock number in praise of Lord Ganesha. It instantly reminds you of Agneepath's Shri Ganesha deva, except that this one's even heavier and more thunderous. This track seems like a lead-up to another called Sada dil vi tu – a hip hop-rock-folk fusion tribute to Ganpati bappa. Aptly sung by Hard Kaur, it's the most unique experimental composition dedicated to Lord Ganesha and hats off to Sachin-Jigar for coming up with this high energy devotional dance fusion number.
Sorry sorry is a pop song with an easy going melody and rhythm. The lyrics are in Hinglish; it's the language of today's youth that makes this number young and vibrant. Case in point: Sorry sorry sorry pakde yeh dono kaan kya…mehengi hai ek muskaan kya…final warning, final warning don't you break my heart…see see see can't you see see see kitne deep deep deep mere dil ke jasbat.
Any heartbreak number needs to have a passionate energy to be able to drive you into that sentimental mood. Duhaai is a perfect blend of techno samples, drums and sitars, creating exactly that kind of effect. Lyrics like Ek low hai sau parchayi hain, duhai hai add to the passionate and forceful result.
Man basiyo saanwariyon is a large scale composition – thanks to Anushka Manchanda's powerful voice (mouthing Rajasthani lyrics), the electric guitar, super-fast drumming and techno samples. It is a haunting blues ala Adele's Rolling in the deep meets heavy metal kind of track. A simply great composition!
Music director Jigar Saraiya takes to the mic along with Raman Mahadevan for Chandu ki girlfriend, a timepass number with funny lyrics like Chandu ki girlfriend jan hit me jari, Chandu ki girlfriend abla nari, sab pe bhaari. It is likely to catch the fantasy of young listeners for its quirky lines, but it's the weakest song on this album.
With nine powerful tracks, ABCD is definitely Sachin-Jigar's best work till date as their experiments have created some fresh new age sounds. But their success really lies in being able to balance western and Indian influences to create something that's young, fresh and urban, yet Indian at its core. It would not be wrong to say that ABCD is India's first step into the urban dance genre. Sachin-Jigar have arrived!
Rating:
out of 5
Reviewed by Suparna Thombare
* Poor
** Average
*** Good
**** Very good
***** Excellent