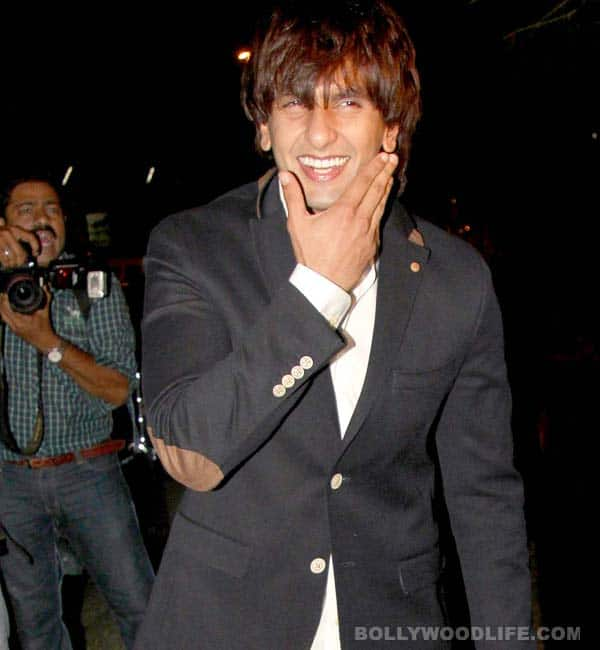 Yes, the flamboyant Ram-Leela actor indeed feels conscious in the presence of some people. Find out who!
Ranveer Singh comes forth as a 'bindaas' guy and even the roles he has done so far, he has convinced to be a confident lad. But of course, we've seen him blush (not quite literally) and smile like a lovestruck teenager in his alleged lady love, Deepika Padukone's presence. Now we hear that, it's not only Dippy who makes Ranveer conscious. The Ram-Leela actor feels conscious in his parents' presence! Though the actor admits that he has taken his mother on the sets of Ram-Leela, 'coz she insisted on seeing a Sanjay Leela Bhansali movie set, he prefers keeping his parents away.
Ranveer says, "I keep them away because I'm so invested in them that they become my focus. I want them to be comfortable and treated right. I don't want them to feel lost in the chaos of the sets, and at the same time, I want to be able to focus on my work." He adds, "You could have a lakh people watching me dance naked and I won't feel conscious, but if my mom is watching, I get conscious."
So, does Ranveer always keep his parents away from his movie sets and performances? He says, "They were there when I won my debut award. Otherwise, I'm usually performing at these functions and I don't let them come there or on my film sets."
So it's not just around Dippy that the Singh lad gets conscious. While we understand why Ranveer is conscious in Dippy's presence, we don't quite get it why the actor feels shy in his parents' presence. We wonder if Ranveer is conscious around his parents 'coz he has to be cautious of not revealing his flirty side, or his relationship with his co-stars… Does the Singh lad feel shy 'coz he's hiding something from his parents? Well, only Ranveer knows that!