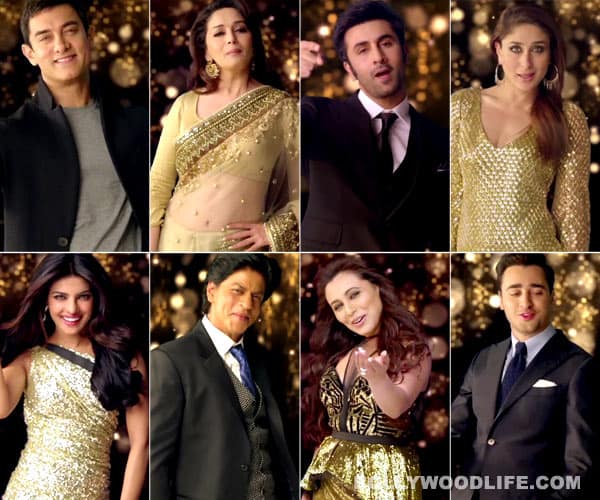 A whole galaxy of stars from Madhuri Dixit to Ranveer Singh come together to light up the up the screen in the song that celebrates 100 years of Indian cinema
Medleys have always attracted filmmakers. From Farah Khan's Om shanti om number to Sajid Khan's Heyy Babyy track, many a director has tried to include as many celebrity faces as possible in one frame. So it's only logical that the title track of Bombay Talkies features as many superstars as can be crammed into it, considering the fact that it celebrates 100 years of Indian cinema – a landmark moment in the history of movies!
Choreographed by Vaibhavi Merchant, the track Apna bombay talkies features the three Khans sharing screen space…well, kind of…for the first time. The track opens with Aamir Khan surprising a young man by breaking into a little gig for him, while Papa kehte hai (from Qayamat se Qayamat Tak) plays in the background. He is followed by Madhuri Dixit, Saif Ali Khan, Shahrukh Khan, Kareena Kapoor, Vidya Balan, Rani Mukerji, Farhan Akhtar, Shahid Kapoor, Priyanka Chopra, Anil Kapoor, Sridevi, Akshay Kumar, Karisma Kapoor and Juhi Chawla. The young Turks in the song include Ranveer Singh, Ranbir Kapoor, Imran Khan, Sonam Kapoor and Deepika Padukone. Each of these celebs does a dance step to a background tune of their most recognisable song!
In the video, the celebs are all clad like a dream – the women in gold and the men in black formals. Check out this amazing medley that could be the most star-studded clip you've ever seen! One thing – we missed the seniors, though. It would have been lovely to see the Sholay pair of Amitabh Bachchan and Dharmendra as a part of the song, for instance. What say, BollywoodLifers?
[jwplayer mediaid="213838″]