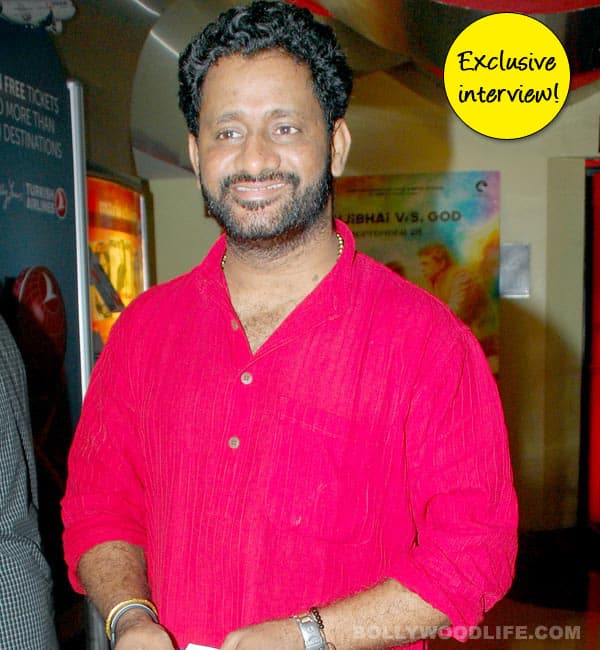 The Oscar Award-winning sound designer says once you make it big internationally, people in India think you're too snobbish or expensive to hire. In an exclusive chat with BollywoodLife, Resul also talks about his projects including his Oscar-nominated film The Good Road, Rajinikanth's Kochadaiiyaan, his relationship with master composer AR Rahman, and how Irrfan Khan had predicted he would have no takers in India…
He's unassuming, accessible and cheerful – you wouldn't think you're speaking to an Academy Award-winner and virtuoso sound designer until you realise the depth of Resul Pookutty's knowledge and experience. And yet he has no airs and his answers are unrehearsed. When asked if the Slumdog Millionaire victory at the Oscars increased opportunities for him in Hollywood and also back home in India, he confesses, "I'm not getting any work in India, which is quite sad…people think I'm too snobbish or expensive because I've won an Oscar." In the same vein, he says that he's forgotten all about winning that so-coveted Academy award!
Resul indulges in frankspeak with BollywoodLife, giving a glimpse into his career and life, also revealing that music maestro AR Rahman is his spiritual guru and that what actor Irrfan Khan said has come true. He also speaks about creating sound for Kochaidaiiyaan and other films he's working on.
What films are you doing right now?
This morning, I got back from watching the first trailer of Rajinikanth's Kochadaiiyaan. I'm also mixing a Hindi film called Warning. It's the first underwater film shot in 3D in India. Immediately after that, I have another film called Blemished Light and then Gulaab Gang. I just had a release of Malayalam film called Kunjananthante Kada. I have an American film called Margarita With a Straw, directed by Indian Shonali Bose, who helmed Amu. I'm also doing Imtiaz Ali's Highway, among other films.
What has been the most challenging sound design assignment for you – you all kinds of films?
(Laughs) Every film is challenging! For example, I was working on a Hindi film called Anwar Ka Ajab Kissa by Buddhadeb Dasgupta. It's one of the most lyrical films I have worked on, and I wanted to work with Dasgupta so I called him and told him 'Dada, I want to work with you'. And he was shocked, me working in a such a low-budget project with him! I said, 'The budget doesn't matter, I want to do this'. He is one of the master filmmakers of India. When I started watching Anwar – the kind of imagery that he has created – it was quite scary for me to be able to match up to that.
Then when I began working on Warning. The whole film is underwater and above it, and three dimensional. To create the kind of sound spectrum needed for the thriller…how do we create that feel for two hours in one space, for four characters who have nowhere to go? A film where no angles change, and there are no gimmicks? How do we create the fear factor running along the spine of the audience? These things really posed a challenge.
Kunjananthante – it's like an Iranian film, no gimmicks and it's a drama. You have to be truthful and genuine to the kind of film that it is. And also do justice to an actor's performance so that it is enhanced. I had to work on the language, even though I'm a Malayali, as the director was alien to me. It was like working in a foreign language. This month, a French film of mine by François Girard is releasing – working on Kunjananthante reminded me of the same film.
Now I'm mixing Kochaidaiiyaan. It's a very VFX (visual effects) heavy film, with motion capture and performance capture technology – how to match up to what is possible! The film is evolving on the VFX table – no camera angles are fixed. Everything is evolving as per the CG (computer graphics) and yet the film has to be realistic and a larger-than-life experience.
Every film has its own challenge. I don't know which is the toughest amongst these.
How useful was your experience in working with Danny Boyle Slumdog Millionaire? Did it help you get more work in Europe and the US?
The French guy (Girard) – immediately after he saw Slumdog, he looked for me. He took three months to track me down and later worked with me in India. So in Europe, yes, they are really taken aback by the work that has been done in Slumdog. Then the Swedish film I did, again the producers were really happy with the kind of work done. So Slumdog has been been very well received in Europe and the US.
How about getting work in India?
It's actually the other way around – I'm not getting much work in India, which is quite sad! Instead of trying to come to me, mainstream Hindi cinema is shying away from me because I have an Oscar! I've been telling my friends about this…. Actually Irrfan Khan – who was in Slumdog Millionaire and has acted in numerous Hollywood projects – had predicted this. He told me, 'Abhi tereko kaam nahin milega – idhar bhi nahin milega, udhar bhi nahin milega' (You won't get any work now – neither in Hollywood nor in Bollywood). He was speaking from his own experience. That has come true and been so for quite a while for me. There has to be some sort of bouncing back; and also, I have been more approachable and more open to talking to people.
So recognition from the West doesn't really help, does it?
There is a scare factor. Because you have achieved something internationally and because you're not in the country half the year – that was the case a couple of years ago, and the kind of media attention that I got in those two years…. It's also the psyche. People are scared because they think you are big and unapproachable. And expensive, of course – that is one aspect they always point out to me.
Also, I've been choosy about the kind of work that I do. But I've always been forthcoming about working with newcomers, youngsters and in independent cinema. I have mixed my filmography with mainstream and indie cinema, and I feel quite happy about it, irrespective of people's perception about it.
Has AR Rahman also said the same thing about the issue?
(Laughs) I don't want to say how AR Rahman must be feeling. It's not for me to judge it.
But you must've talked to him about it sometime!
Yeah. In fact, yesterday we were together and we spent a lot of time talking and sharing ideas. Both of us are in a similar situation right now in terms of what the next stage of our work will be. In that he is quite my parallel.
Any more collaborations with Rahman apart from your current ones? Are you a part of the Bollywood film that he is making?
We have two films together – Highway and Kochadaiiyaan. I don't know if he's making a Hindi film.
What is your equation with him? Do you'll talk like friends or like professionals?
I have a very different equation with him. Of course, when we work together, we're professionals. Otherwise, to me he is a brother and it's the same for him. He's like my spiritual guru. In our relationship, we have respect and love for each other.
How crucial and helpful is background music in sound design? Do you, the background music director and the composer discuss how your sound should complement their work?
Background music is very crucial to the sound spectrum of a film. Because one problem with background is that it carries a readymade emotional quotient. In films, you want that to be not apparent and manifest itself. Every bit of sound in a film has to be identified as a part of the natural theme. Especially if you are working on a movie with sync sound – you have to be very careful about the kind of score coming in.
Of course, I do sit a lot with the background music director and exchange notes with the music room. We always work with each other, creating sound – it becomes a wholesome experience rather than one over the other.
What can be the ultimate dream or project of a sound designer?
I don't know. I have not set forth such a goal. For me, this happened and is a way of life. I wish I was able to work with Russian director Andrei Tarkovsky, but that is something not possible now. I've been quite happy with the kind of work I am able to do, so I don't have a wish list anymore. Everything that has happened to me is quite extraordinary.
How soon would you helm your first film as director?
Every film student who has studied at the Film and Television Institute of India (FTII) wishes for that. So I have also nurtured a dream that one day, I would become a filmmaker – even if I make a bad film! So, if I were to die, I would die as a feature filmmaker. But when am I turning director? Not right now. As a sound designer, I'm committed till 2014. I'll have to stop that work to be able to switch over now. But eventually, of course, I would direct a film. Let's hope it happens soon.
How important is the Academy Award for you? A lot of filmmakers in India say it is not necessary or important to recognise our work. Is that also your opinion? Will an Indian film winning an Oscar make you happy?
Actually I have forgotten my Oscar Awards victory! That is over and done with in my life. Of course, that is the greatest achievement, but I don't brag about it. I would be happy nevertheless. Whether an Oscar-winning movie is made in India or elsewhere, I think it's an achievement of a very special kind – an honour that is given to people who are extraordinarily talented. So, if an Indian film wins it, I would be really, really happy. The position I am in now, being an Academy member – I'll be all the more happy to be able to nominate an Indian film and vote for it.
Is any film made in India in the last year eligible for the Oscars?
I shouldn't comment on this, as our films are only nominated in the Best Foreign Language Film category. The chosen movie will be competing with films from all over the world, so it has to be one among the best in the world. It's not about the technical aspects, but something much more than that. There are some eligible Indian movies. We have to see if we are sending the right films to the Oscars.
UPDATE: Resul's film The Good Road has been selected as the official entry to Oscar 2014. We spoke to him again about the film.
How was it working on an on-the-road film like The Good Road?
The movie has a rustic quality to it, so we had to work on it like that. The Good Road is not a sync sound film, but we had to record actual sounds on location and use them. Also, the music was recorded live as the film was shot.
Resul also tweeted about the film when its selection was announced. He said, "Happy to let you all know that our small film #The Good Road has been selected as India's official entry at the Oscars!Kudos Gyan& Amitabha."
Happy to let you all know that our small film #The Good Road has been selected as India's official entry at the Oscars!Kudos Gyan& Amitabha.

— resul pookutty (@resulp) September 21, 2013
He added, "It hasn't sunk in me yet that #The Good Road is selected for the Oscars…!It was such a small film, we begged and borrowed in making it…"
It hasn't sunk in me yet that #The Good Road is selected for the Oscars…!It was such a small film, we begged and borrowed in making it…

— resul pookutty (@resulp) September 21, 2013
Congratulations, Resul and all the best for the Oscars, yet again!