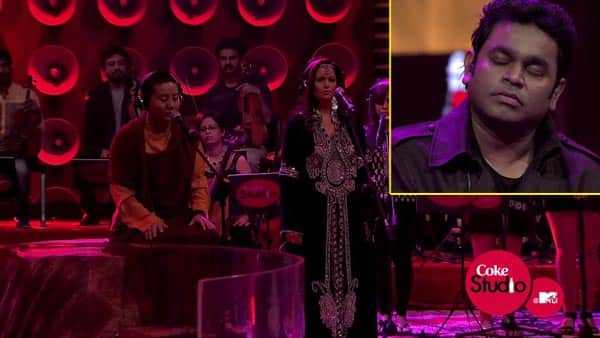 The maestro's anthem for the show's Season 3 features Sivamani, Farah Siraj and Ani Choying Drolma. Here's our take on the song
After his super melodious love song Nenjukulle (from Kadal) that he released on MTV Unplugged in November last year, AR Rahman has composed and produced a fusion number, titled Zariya, for Coke Studio@MTV Season 3.
The song – based on the theme of motherhood, compassion and happiness – gives a spiritual high. Rahman takes the help of Farah Siraj, a Jordanian singer, and Ani Choying Drolma, a Nepalese Buddhist nun, to create a spell. While Drolma's chant works like magic and adds to the rhythm, the backing vocals throughout work wonderfully. Siraj comes in at the right time with her harmonious Arabic notes that work like an Indian alap.
Master percussionist Anandan Sivamani soon takes over. Though we must admit we have seen better fusion by lesser known musicians, we like how Rahman merges Sivamani's funky beats with the otherwise spiritual content of the song. The song culminates in a crescendo. Siraj, known as the Musical Ambassadress of Jordan, has played in India before. She floors you with her vocals in Rahman's offering. While 'Rahman Sir', as he is fondly called, puts in his bit on the keys and continuum keyboard.
With Prasoon Joshi's Hindi lyrics and traditional Jordanian words for Siraj's part of the song, Zariya is sure to be a viral hit globally. Listen in and tell us if the Rahman magic works for you this time!