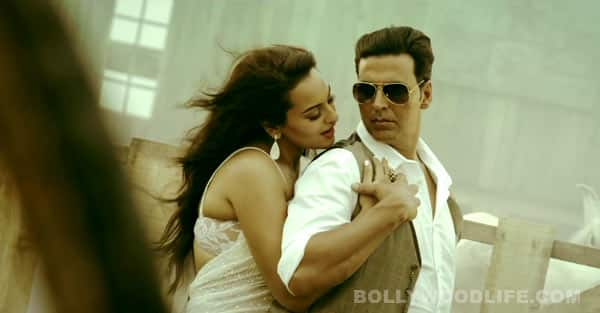 Before you react to this, check out the latest song – Har kisi ko from Akki's upcoming action flick Boss and tell us what you think!
Akshay Kumar and Sonakshi Sinha's successful pairing has worked wonders at the box office. Considering that, the makers of Boss roped in Akki's lucky mascot Sona to reprise the original 1986 hit number, Har kisi ko nahin milta starring Feroz Khan and Sridevi.
Though Akki and Sona fail to recreate magic of the original, the new song Har kisi ko nahin milta certainly injects a meaningful message – Not everyone is blessed with love in life. There are a lucky few who get this spring in their life. We translated this lovely number into English word to word but as usual our naughty attempt got a little lost in translation… but is worth a laugh anyway. Take a look!
Har kisi ko nahi milta
yahaan pyar zindagi mein
khush-naseeb hain hum
jinko hai mili
ye bahaar zindagi mein
har kisi ko nahi milta
yahaan pyar zindagi mein
Everyone no get
Here love life in
Fortunate is we
Whoever is got
This spring life in
Everyone no get
Here love life in