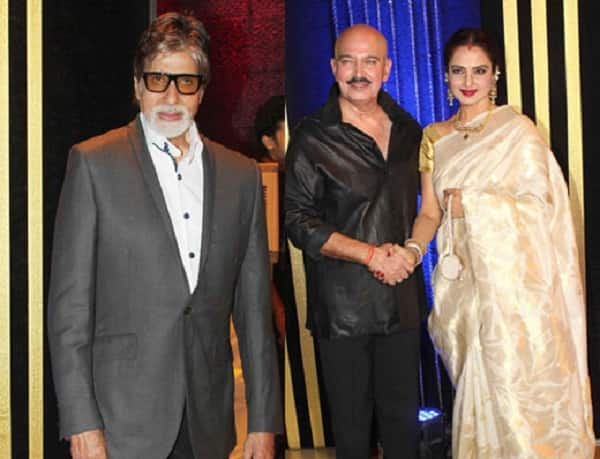 Before you let you minds run helter-skelter with a zillion thoughts, let us tell you that there's no Silsila happening, at least now right now. However we wish it was true that this powerful duo came together on screen once again
Rakesh Roshan's 64th birthday celebrations was special for more than one reason, of course the agyakaari son Hrithik Roshan had organised a starry bash with the who's who of B-town in attendance. And Amitabh Bachchan and Rekha were under one roof at this party too, so did they discuss movies? Did the Silsila stars talk about all the hype and hoopla around their coming together in Welcome Back. Now that would be most welcome, na? But seems like for now we have to just do with spotting this powerhouse performers together only at events and dos.
Blue Sea in Worli on Friday night was the most happening spot in Mumbai. Apart from the entire Roshan family,  the other celebs present on this special day were – Dharmendra, Jeetendra, Shobha Kapoor, Rishi Kapoor, Sridevi, Vivek Oberoi, Shilpa Shetty, Prem Chopra, Shabana Azmi, Javed Akhtar, Honey Irani and Zoya Akhtar and many more.
The Krrish star delivered a touching heartfelt speech for his father and thanked daddy dearest for the perfect launch in Bollywood. And now with Hrithik's dad undertaking his most ambitious project Krrish 3 slated for release Nov 4, we're sure the Roshan's will have more to celebrate post the film's success! May be, Sr Roshan will also manage a casting coup by roping in his friends Amitabh and Rekha for another silsila after his superhero flick. That definitely would make Sr Roshan the real super director of B-town, won't it BollywoodLifers?