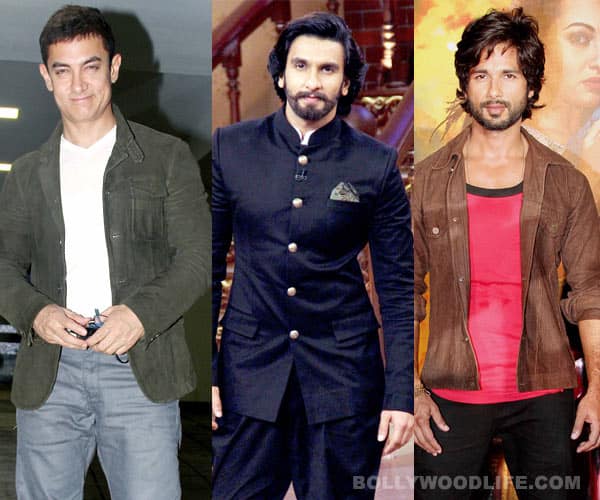 Every B-town celeb wants to be present at Wankhede stadium in Mumbai when Tendulkar plays his last match. They all are ardent Sachin fans, we know, but is it just about bidding farewell to the Master Blaster? Or is there more than what meets the eye, we wonder!
Aamir Khan, Shahid Kapoor, Ranbir Kapoor, Deepika Padukone, Ranveer Singh and Sushant Singh Raput are expected to be present at Wankhede stadium, Mumbai. They all want to see Sachin Tendulkar aka God play for the last time on field. And though these stars are running on a tight schedule, they'll squeeze some time off by hook or crook to make sure they don't miss the match. The whole world will be glued to the television sets, every newspaper, channel and radio station will cover this iconic event. So isn't this the best chance to promote films? Absolutely! And who knows when to face the cameras better than Bollywood.
Maybe that's one reason why Sachin Tendulkar's last match will be a star-studded affair. While Aamir has already dedicated Dhoom:3's  title track Dhoom machaley to the Master Blaster, we are sure he will turn up at the stadium in his trademark Dhoom:3 hat. The Ram-Leela star cast might face the heat of Sachin's last match considering that their film is releasing alongside the test series. We wonder if Dippy and Ranveer's plan to watch the match together is to make sure that they have enough audience in the theaters for their film or just be the audience and catch the game of cricket. Their presence in the stands would mean a recall value of Ram-Leela, no?
Also, Sasha who is busy promoting his film R…Rajkumar has asked his director Prabhu Dheva to accompany him at Wankhede stadium. Even if there's little reason to promote his film this early considering that it will release only in December – we wouldn't be surprised if Shahid and Prabhu Dheva will break into a dance at the stands – of course that is every time Sachin hits a great shot. Now that would be a clean sweep as far as promotions go, right BollywoodLifers?
Hopefully these actors will not drop by on the same day since it's a test match else it might leave a bitter taste like Akshay Kumar and team Once Upon Ay Time in Mumbai Dobaara did during their Kolkata promotions. How can we forget Ekta Kapoor and her OUTIMD team was left red faced after Shahrukh Khan and team Chennai Express took the centre stage at IPL.
So, one thing is for sure, their films would get promoted. A smart move it is, after all its about grabbing the opportunity and our B-town stars know best how to do that, hai na?
Whether Aamir, Deepika, Ranveer and Shahid promote their films or not, we dunno. But even if they do, they won't be able to steal Sachin's thunder. He will be THE man all along, right BollywoodLifers?