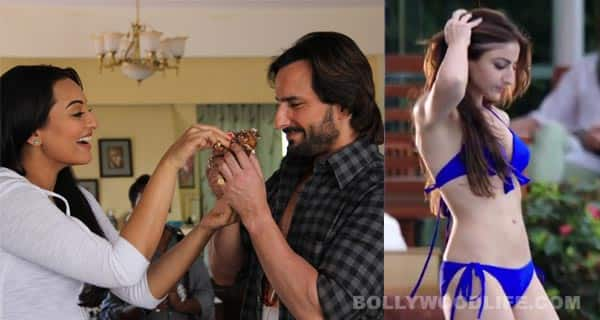 Cineswami analyses the way Bollywood PR machine try to compete for eyeballs in today's crowded market
You, the public, are subjected to an avalanche of trivial information about the latest upcoming Bollywood release. No detail, no matter how trivial, is news to the Bollywood PR companies. And we, the bearers of such news, suffer from receiving a veritable tsunami of such trivia and endeavour to whittle them down to a mere avalanche for your consumption. The Bollywood PR machine is relentless. Today mere trailers, commercials, songs on television and radio, stars' public appearances at malls, contests, internet promotions and the good old poster campaigns will not suffice. The Bollywood marketers now try to reach the parts of the human brain (assuming that the recipient has one, of course) that this relentless fusillade does not reach. Hence, what the PR companies fondly imagine is choice bits of information are released to the press and are duly printed in the paid news pages for you to happily lap up.
The question is, do you really lap up these bits of information? Let us give you an example. The hot news today is that Soha Ali Khan, (remember her? No? Thought not) will wear a bikini in Joe B Carvalho. However, the way it was presented to us is that Soha will don a bikini from her personal collection for the film. Now, there might be some people out there who will get excited at the thought of Soha in a bikini and thereby be tempted to shell out their ill-gotten gains and make for the nearest cinema showing Joe B Carvalho. But, will the fact (or fiction) that the bikini is from Soha's personal collection send an extra erotic charge into the punter's fevered mind? Does the fact (or fiction) that Soha has a bikini collection in the first place cause much excitement in the punter's unmentionables? These deep philosophical questions bear much musing about.
When not appealing to the crotch, the PR machine tries to appeal to the heart (assuming that recipients have one), aiming for the 'aw cho chweet' demographic, who are precisely the kind of people who have no idea what 'demographic' means, hence being the perfect target market for aforementioned machine. The latest gem from team Bullett Raja is that Saif Ali Khan affectionately called Sonakshi Sinha 'mishti doi' on set, after shooting a scene that has liberal references to Bengali sweets. There is a quote provided, attributed to the usual 'source from the production team' as nobody in their right mind would put their name to such drivel: "Since Sonakshi is very sweet to talk to and is extremely soft spoken, Saif gave her a new name. Tigmanshu too, who considers Sonakshi a classic Bengali beauty, joined in and soon everyone else started addressing her so, as well." Now, Mr Dhulia is a smart man and would not even dream of considering Sonakshi a classic Bengali beauty, even if she plays one in the film, given that she is the daughter of the lion of the Bihar, Shatrughan Sinha.
At least Soha was game enough to lend her name to this classic bikini quote: "I haven't been in a pool before in any of my films so there was never a need to wear a swimsuit… I was given the choice between a swimsuit and a bikini and I chose to wear a blue bikini from my personal collection…! I love the water and swim a lot, so I was not uncomfortable doing the shot although it was a first for me and so I was a bit nervous about the aesthetics of it and was insistent it should not be crass or crude but look effortless and natural and thanks to my Director Samir (Tewari) that's what we have got!!"
The aesthetics of it? What about us poor front bencher chavanni class, Soha? Spare a thought for us. If you want to be a sex symbol, a rani of raunch as it were, aesthetics just won't cut it. Just look at Katrina Kaif.