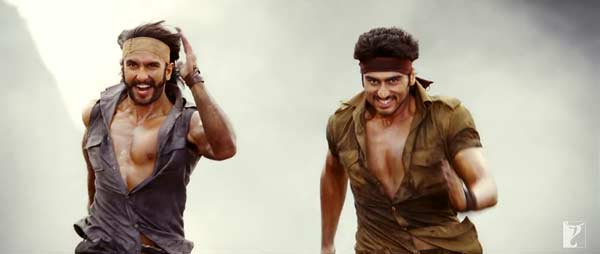 The Gunday co-stars are obsessed with the same girl in real life. But who is she?
Looks like Arjun Kapoor and Ranveer Singh have took their roles in Gunday too seriously. Why do we say so, you ask? Well, in the film, it's obvious that both the handsome hunks fall in love with Priyanka Chopra, but what if we say that the duo is obsessed with one heroine in real life as well. Yes, both Ranveer and Arjun have a very genuine crush on one B-town heroine. But who is she? It's none other than Kareena Kapoor, now Khan.
If you will remember, Ranveer was first to admit this on an episode of Koffee with Karan last season. According to the Ram-Leela actor, it was his crush on Kareena Kapoor that played an important role in turning him into a man. While that raised many eyebrows, Ranveer was so candid that we couldn't help but smile.
And now we hear that Arjun too has admitted that Kareena was his first genuine crush. "My first crush was Kareena. When I met her for the first time, I realised that she looks even better without make-up. However there was no one reason why I had a crush on her. She has just always been a spectacular woman," Arjun was quoted by a daily.
We couldn't agree more with the duo. After all, who doesn't find the Begum appealing, hai na?